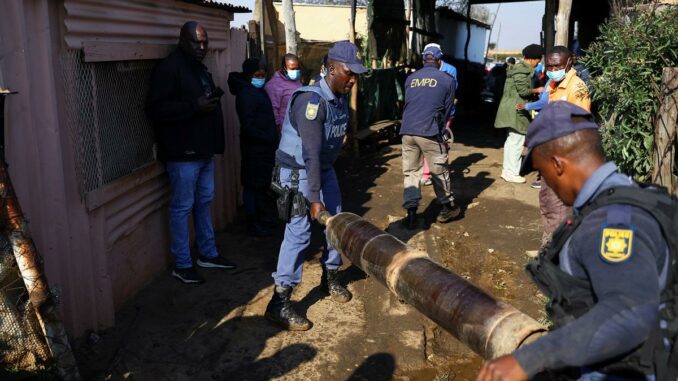 Seventeen people, including three children, died on Wednesday night after a gas leak in a shantytown in a mining town near Johannesburg, according to local authorities.
Emergency services suspect that the leak was caused by gas cylinders used by illegal miners. The shantytown, crossed by a dirt road lined with corrugated iron shacks, lies at the foot of a disused mine.
On the scene on Thursday morning, the Prime Minister of Gauteng province, Panyaza Lesufi, announced to the press that one person taken to hospital had died in the morning, bringing the death toll to 17. The previous death toll of 16 had been revised downwards from the authorities' initial figure of 24.
Three children were among those killed, added Mr. Lesufi. "Five people were admitted this morning, including one on oxygen. Eleven people in total are hospitalized," he added.
Called at around 8 p.m., initially for what appeared to be an explosion, the emergency services found that it was a gas leak. A bottle of nitrate oxide was found at the scene. "When we arrived, we saw dozens of people lying all over the area due to inhalation of the toxic gas," said emergency services spokesman William Ntladi.
"It is believed to be a gas leak from a cylinder, which is nitrate oxide, a highly toxic gas that has affected the residents of this informal settlement in Boksburg," he explained. "Preliminary information indicates that these people were using the gas for illegal mining activities," he continued. "Apparently, the illegal miners were using the gas to extract gold from the ground".