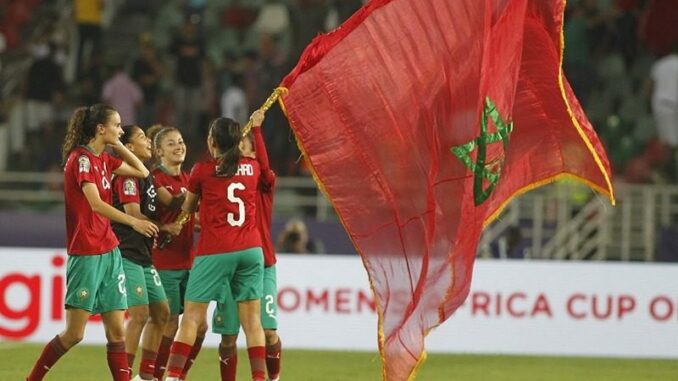 President of the Confederation of African Football (CAF), Patrice Motsepe, has congratulated Morocco, Nigeria, and South Africa on their qualification for the last 16 of the FIFA Women's World Cup (Australia-New Zealand 2023).
"CAF (…) congratulates the Women's Teams of Nigeria, Morocco and South Africa for their historic and well-deserved qualification to the Round of 16 of the FIFA Women's World Cup Australia and New Zealand 2023," reads the official CAF website.
"The Super Falcons, the Atlas Lionesses and Banyana Banyana have made the people of Nigeria, Morocco and South Africa, as well as the people of the rest of the African Continent, very proud with their outstanding performances and hard-earned victories."
"The future of Women's football on the African Continent is bright," added CAF President.
The victories and successes of the Nigerian, Moroccan and South African Women's Teams will contribute significantly to the development and growth of Women's football in Africa, said Patrice Motsepe.
CAF also wishes the Nigerian, Moroccan and South African Women's football Teams everything of the best for their upcoming matches.
FIFA President Gianni Infantino had also congratulated Morocco on their qualification for the knockout stage of the ongoing women's world cup 2023.
The FIFA chief appeared in a video right from Perth Rectangular Stadium on his Instagram account congratulating Morocco's female national team on their qualification for the round of 16 of the ongoing world cup tournament.
Infantino congratulated the Atlas Lionesses on clinching victory against the Columbian team and making history in this tournament.
While Morocco is one of the eight debutant teams in this world cup, it still pulled off an incredible feat by qualifying despite their big loss against Germany in their first group stage match, he stressed.
"It was great to attend the superb game between Morocco and Colombia this evening in Perth," the FIFA chief captioned the video he published on his Instagram page.
"Congratulations to Colombia and also to Morocco who have reached the knockout stage in what is their debut FIFA Women's World Cup appearance. Dima Maghreb!" he stated further.
Another post features photos from Morocco-Colombia match where Infantino referred to Morocco "scripting" history during this decisive match against Colombia by qualifying to the next round for the first time.
Morocco's squad have rebounded during the group stage matches. After a heavy defeat against Germany (0-6), they scored two victories against South Korea (1-0) and Columbia (1-0).
Germany left the tournament after a draw with South Korea while Colombia topped group H.
Debutant Morocco will face France in the next game in Adelaide as the North Africans stand sturdy to earn a remarkable path into knockouts and follow on the footsteps of their male counterparts who made a historic run during Qatar World Cup, where the squad led by coach Regragui was the first African nation to cruise to the semi-finals.