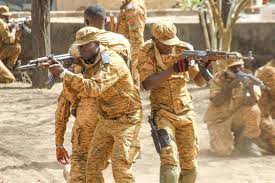 Ten terrorists were killed on Tuesday when an armed terrorist group attacked the village of Niamana in Burkina Faso's western province of Kénédougou, security sources said on Thursday.
A group of terrorists entered the village on Tuesday and opened fire on the villagers, a local security source was quoted by the media as saying.
The response of the Volunteers for the Defense of the Homeland (VDP) neutralized ten terrorists, the same source added.
According to another source, seven Burkinabe army auxiliaries were killed during the counterattack, and the attackers set fire to the village's shops.
Since 2015, Burkina Faso has been caught in a spiral of terrorist violence that has left more than 16,000 civilians and soldiers dead and more than two million internally displaced, according to NGOs.