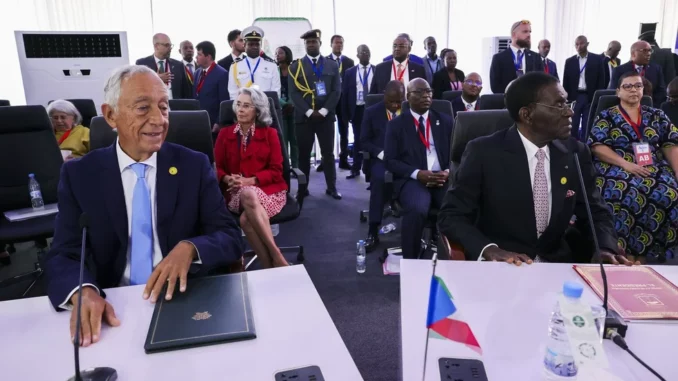 Marcelo Rebelo de Sousa considers that Equatorial Guinea has completed its process of integration into the CPLP after ending the death penalty, a condition of access.
The President of the Portuguese Republic said on Sunday August 27 that Equatorial Guinea has completed the process of joining the Portuguese Community of Portuguese-Speaking Countries (CPLP), after ending the death penalty, one of the conditions for access.
"I myself, and the Prime Minister more emphatically, refer to the step taken by Equatorial Guinea in welcoming [the end of] the death penalty, which was a decisive obstacle, which has been there since 2013, 10 years ago now, to this path to integration," said Marcelo Rebelo de Sousa, at the final joint press conference with the head of Government, António Costa, of the CPLP summit, which took place on Sunday in São Tomé.
Equatorial Guinea's integration roadmap "is mentioned in São Tomé and Príncipe's declaration and means that it is a process that has taken a long time and has achieved this good result," admitted the Portuguese Head of State, pointing out that, at the same time, "there has been an acceleration in the process of teaching Portuguese."
Equatorial Guinea is a former Spanish colony that made Portuguese its official language in 2014, committed to teaching the language and ending the death penalty, conditions for access to the CPLP, made in 2014.
On Saturday, Equatorial Guinea's Foreign minister told media that the country wanted the presidency of the organization, but Marcelo Rebelo de Sousa recalled on Sunday that there was already a commitment made at the summit two years ago in Luanda to give that title to Bissau.
Now, as for the future and the possibility of a country that has been singled out for violating human rights and disrespecting the opposition being president of the CPLP, the Portuguese Head of State said that everything will depend on the context.
The CPLP, which includes Angola, Brazil, Cape Verde, Guinea-Bissau, Equatorial Guinea, Mozambique, Portugal, São Tomé and Príncipe and East Timor, is holding its 14th Conference of Heads of State and Government in São Tomé and Príncipe, under the slogan "Youth and Sustainability".