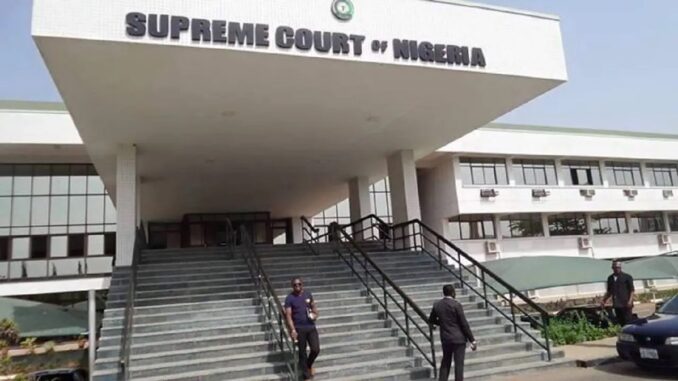 A wing of the Supreme Court complex situated at the Three-Arm-Zone, Abuja, was engulfed by fire on Monday September 25 morning.
The fire, which started around 7am, caused panic among staff members of the court who scampered to safety. Though no human casualty was recorded, it was not clear whether the fire was probably caused by electrical malfunction in one of the offices within the administrative wing of the Court.
The source confirmed that three offices, including that of Justice Mohammed Saulawa, was touched by the fire before it was eventually put off. Meanwhile, the court is yet to issue a formal statement on the incident.
The Federal Capital Territory Police Command has said officials are investigating the cause of the fire incident. The fire incident is the latest of many that have affected government offices in Abuja.
In May 2023, fire gutted some parts of the Nigerian Air Force Base located along Airport Road in the FCT.
In February 2022, there was a fire incident at the Ministry of Finance building in Abuja. In May 2020, a fire burnt a part of the Nigerian Postal Service building in the FCT. A month before that incident, a building housing the office of the accountant-general of the Federation was gutted by fire.
The Federal Fire Service said Nigeria lost about N5 trillion to fire incidents in four years.