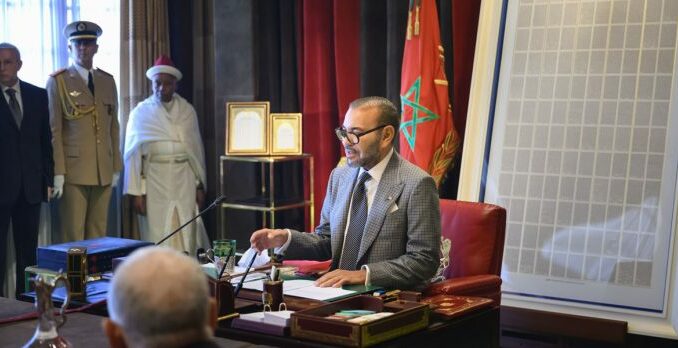 King Mohammed VI chaired over a Ministers' Council in Rabat this Thursday, during which Finance Minister Nadia Fettah Alaoui made a presentation on the highlights of the 2024 draft budget.
According to the draft budget, the Moroccan government expects an economic growth of 3.7% and a narrowing of the fiscal deficit to 4% next year.
The earthquake that struck on Sept 8 had no impact on the macro-economic assumptions of the draft budget as the government expects to further cut the deficit from 4.5% expected this year to 4%.
Morocco has reacted efficiently to the earthquake through a multi-pronged program worth 120 billion dirhams ($12 bln) that targets 4.2 million people in the affected areas, said a royal office statement following the Ministers' Council.
The draft budget targets a swift earthquake relief response, addressing water supply challenges, implementing social dialogue deal and backing citizen's purchasing power.
It also provides for forging ahead with the generalization of safety nets and the beginning of cash handouts to needy households starting from this year's end.
Direct financial aid to the needy would target 60% of households who do not benefit from social assistance, the statement said.
Few days ago, Morocco has announced an aid program to improve access to housing offering assistance of 100,000 to citizens acquiring a house that costs less than 300,000 and 70000 to homes whose prices ranges between 300,000 and 700,000.
The draft budget also attaches priority to the overhaul of the sectors of health, education, and the reform of the judiciary.
During the Ministers Council and in accordance with the provisions of article 49 of the Constitution and on the proposal of the Head of Government and on the initiative of the Interior Minister, the King appointed a number of walis and governors.
Likewise, on the proposal of the Head of Government and on the initiative of the Minister of Foreign Affairs, the Sovereign appointed several ambassadors. These include Ahmed Tazi, Ambassador to the United Arab Emirates; Fouad Akhrif, Ambassador to Jordan; Mohamed Ait Ouali, Ambassador to Egypt; Ms. Samira Sitaïl, Ambassador to France; Abdelkader El Ansari, Ambassador to China; and Youssef Amrani, Ambassador to the United States of America.