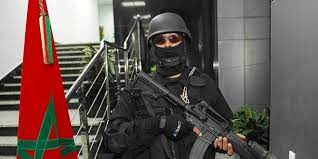 Moroccan authorities announced on Thursday the arrest of four ISIS operatives who were preparing terror attacks in a bid to undermine the country's security and stability.
Aged between 25 and 32, members of the cell were nabbed by anti-terror units in the cities of Tangier, Tetouan and Inezgane Ait Melloul. Police searched their homes and found electronic devices, bladed weapons, Daesh propaganda literature, a guide detailing how to join the extremist organization's training camps in the Sahel, photos of terrorist attacks carried out by Jihadists and a publication on ISIS secret operational rules.
The four captured Jihadists pledged allegiance to the Islamic state and planned attacks against key facilities and security institutions, said a press release issued by Morocco's National Police.
One member of the cell engaged in physical training in the forest and mountainous areas in preparation for his criminal acts, while another one had tried to join the Sahel before dropping the idea and shifting his evil project taking aim against his homeland.
This new anti-terror operation comes amid a growing threat posed by "Daech" and other terrorist organizations around the world due to increasing global instability.