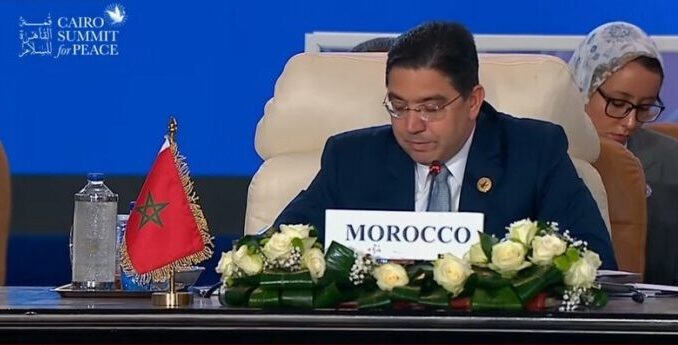 Morocco reiterated its call for an immediate halt to bloodshed while rejecting the forced displacement of Palestinians from Gaza.
Speaking at the peace summit held in Cairo Saturday, foreign minister Nasser Bourita reaffirmed Morocco's stance in support of international efforts to stop the "dangerous escalation in Gaza".
The military attacks should stop in order to spare the region a conflict that would sap efforts aiming to safeguard peace and stability, Bourita told Arab peers at the Cairo summit.
He urged the protection of all civilians in line with international law and called for immediately allowing the delivery of humanitarian aid to Gaza population.
On the same occasions, Bourita recalled the need to work towards the two- state solution with eastern Jerusalem as a capital of a Palestinian state in line with 1967 borders.
Bourita warned that any attempts to displace Palestinians from their territories would threaten the security of neighboring countries.
Both Egypt and Jordan have rejected Israeli attempts to expel Palestinians to their lands.
"We will never accept relocation, we will remain on our land whatever the challenges," head of the Palestinian authority Mahmoud Abbas said at the summit.
During his address to the summit, UN Secretary General Antonio Guterres called for a "humanitarian ceasefire" in the war, demanding global "action to end this godawful nightmare".
The Palestinians need "a continuous delivery of aid to Gaza at the scale that is needed", he said.
The summit began as 20 trucks carrying aid crossed the Rafah border. Humanitarian organizations have warned it will not be enough to address the need.