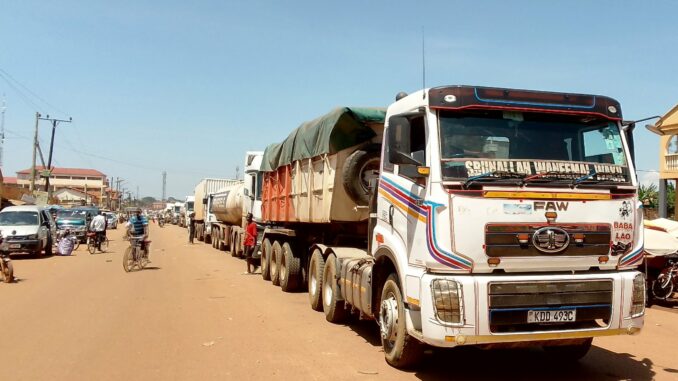 In doing so, they will have beaten the jam at both borders, which lie on the major trade route, the Northern Corridor, for goods to and from Uganda, Rwanda, Burundi, the Democratic Republic of Congo and South Sudan.
Specifically, both countries have resolved to undertake the construction of a dual carriage road on the Northern Corridor route, and to also have two new borders created in Busia, at Mulwadda in Buhehe Sub- County and Buteba in Buteba Sub-County.
Ms Rebecca Kadaga, the First Deputy Premier and Minister for East African Community (EAC) Affairs and her Kenyan counterpart, Ms Peninah Malonza, Kenya's Cabinet Secretary for the EAC, signed on behalf of their countries late last week.
Malonza said they had agreed to a joint venture of undertaking dual carriage roads between Kisumu and Eldoret, both in Kenya, and Mukono in Uganda, adding that the move aims at reducing congestion on the Northern Corridor, which is experiencing increasing volumes of trade.
"The construction of the dual carriage road aims to cater for challenges of congestion which has, for years, continued to be an impediment to the faster movement of goods and services in the region," Malonza said.
She added that they agreed to create border points at Buteba and Mulwadda (in both Kenya and Uganda) to reduce pressure on Busia and Malaba.
"As Kenya, we already have a framework for the establishment of these two new entry points and wish Uganda takes this up seriously and urgently," Malonzo added.
"With the dual carriage road in place from Kenya to Uganda, we hope to reduce the time goods wait in the queues to cross the border and this is the right direction to promote business in the region," Kadaga said.
Kadaga reiterated the importance of creating the two borders and instructed relevant Uganda departments to urgently start on the process.
Each day, Busia and Malaba borders handle more than 3,000 trucks, and with an increase in exports, especially from Uganda.