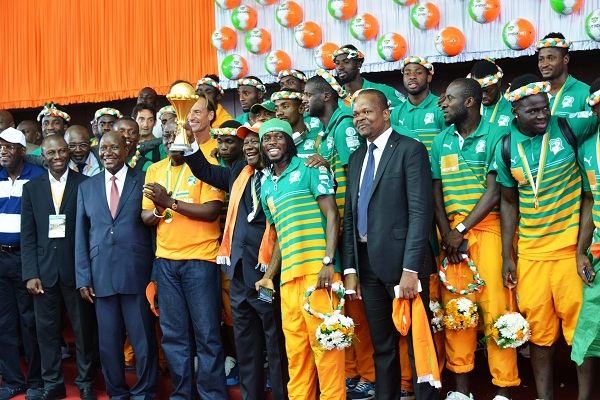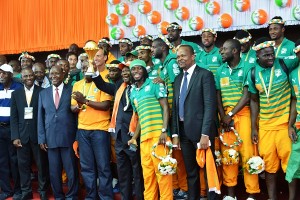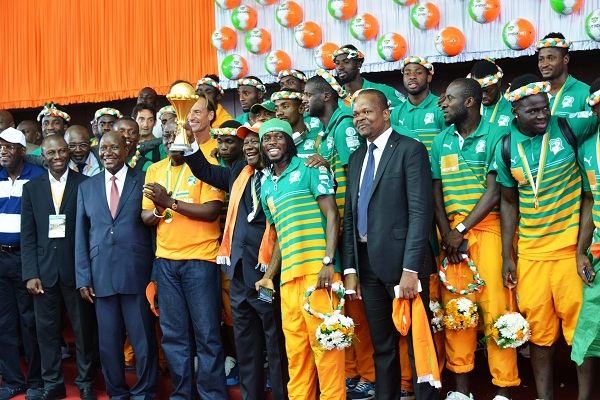 The Head of the Ivorian state Alassane Ouattara has offered on Tuesday 09th February 02 billion FCFA for Elephants footballers winners of the on Sunday the 30th African Cup of Nations (AFCON) in Equatorial Guinea. Each player will receive a villa worth 30 million and 30 million FCFA in cash. The French coach Herve Renard will receive 75 million FCFA and the technical and administrative staff receives 300 million FCFA.
President Ouattara grated the executive committee of the Ivorian Football Federation 250 million FCFA, while the National Supporters Committee of Elephants will receive 35 million FCFA and 20 million FCFA for journalists who were in Equatorial Guinea.
"You have not only covered with gold and with the trophy, but mostly you've covered with glory; (…) thank you for all, congratulations to you, "said Ouattara, very moved.
"1992 to 2015, it has been 23 years, almost a quarter of a century. What a wait! Yes we have dreamed, we dreamed of this cup, it is here in front of us! What a joy! What a thrill! Kudos to you. You have managed to rebuild a united and cohesive team that has one goal: to win and win again. It is a collection of lessons. For nearly a quarter century that we have been dreaming, but now this cup is here. And now come in threes!" He added.
These gifts were announced during an award ceremony to all the players who have contributed to the success of this team.
During this presidential reception, the entire selection was also decorated with the title of Knight of the National Order. The Toure brothers Barry and Copa Siaka Tiéné who are already distinguished in the past, were promoted to officers of the National Order, as Hervé Renard.
Remember that Ivory Coast came over Ghana in a tight final (0-0). It took the test of shots on goal (9-8). The Ivorian goalkeeper Copa Barry provides the final victory to the whole nation. The last victory of the Côte d'Ivoire to the final of the African Nations Cup was in 1992 against Ghana.