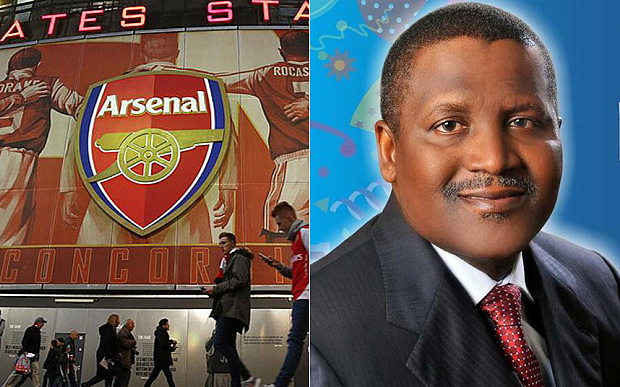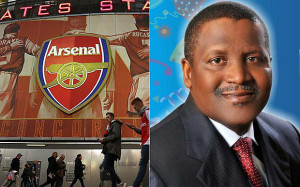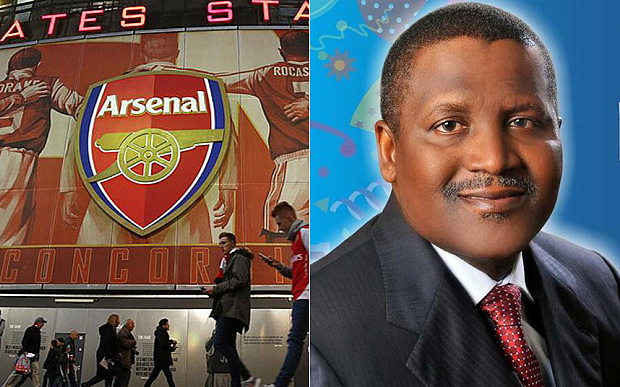 The Nigerian billionaire Aliko told on May 5th, the Bloomberg agency that he is planning to make a takeover offer of the London football club Arsenal in the coming years, after a first failure in 2010.
"I still hope to buy the team one day. I could buy it, but not at a ridiculous price, a deal price at which the current owners could not resist, "said the richest man in Africa. He added: "We have $ 16 billion of investment in the coming years." said the richest man.
Although UEFA's financial fair play rules have been designed to stop billionaires quickly changing the fortunes of clubs by snapping up an endless supply of world-class players, Dangote's money could provide extra cash for new talent.
"For now, I want to bring my business to a certain level. Once I finish that, then maybe I will try my luck again for Arsenal" said Dangote.
Arsenal are currently joint-second in the Premier League with 70 points, but they have a game in-hand over Manchester City, which remains alongside them. While Chelsea confirmed the trophy with a 1-0 win over Crystal Palace on Sunday, the Gunners' 10-game unbeaten run has many supporters excited about the prospect of a genuine title challenge next season.
First man of continental affairs to exceed $ 20 billion fortune in 2013, Aliko Dangote is a head of a conglomerate active in sectors including cement, agriculture, oil, industry and real estate…
Arsenal is currently owned by American billionaire Stan Kroenke at 67% and by the Russian businessman of Uzbek origin Alisher Usmanov as to approximately 30%.