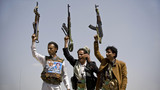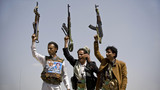 Rival factions in Yemen crisis meet on Monday in Geneva in an attempt to unlock the deadlock surrounding the war between Houthi rebels supported by former Yemeni president Saleh and exiled and internationally-recognized Hadi government' s loyal troops.
UN Secretary General Ban Ki-moon met on Monday with Yemeni government delegation in separate talks.
The talks were to take place on Sunday but had been postponed to Monday with one delegation unable to arrive on time due to some last minutes guarantees demanded by the rebels.
President Mansour Hadi's delegation arrived on Sunday in the city.
Monday's "preliminary inclusive consultations" in Geneva would bring together representatives of the exiled government, the Iran-backed Huthis, Saleh's General Peoples' Congress and other opposition groups, according to the U.N. envoy.
Yemen has collapsed into war between internationally-recognized president Hadi's loyal forces and Iran-backed Houthi rebels seconded by former Yemeni president Saleh.
Houthi rebels drove president Hadi out of the capital Sana'a in September last year and took control of large swaths of the country. President Mansour Hadi sought refuge in the second city of the country, Aden before fleeing to Saudi Arabia, in Riyadh.
Saudi Arabia, backing Hadi's loyal forces, launched in March international coalition-led military air-strikes against the rebels. However, despite long and intense shelling the rebels still hold tight on their positions.
The UN proposed its auspices to end the crisis that has caused a humanitarian catastrophe.