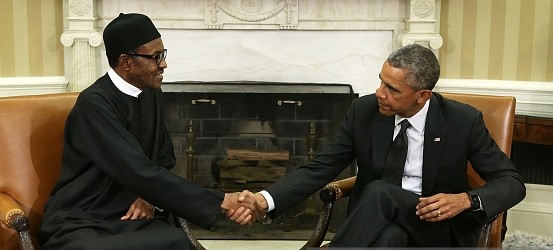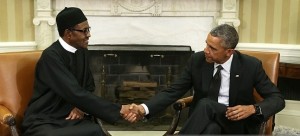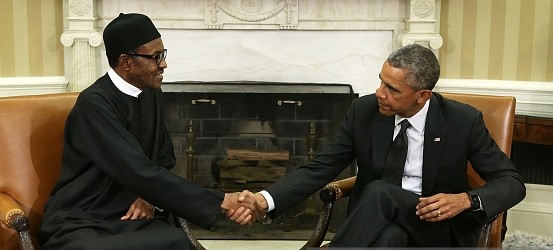 U.S. President Barack Obama will host Nigerian President Muhammadu Buhari at the White House today to discuss fighting the Boko Haram militant group, among other issues, the White House said.
"The visit will underscore the United States' … commitment to strengthening and expanding our partnership with Nigeria's new government," the White House said in a statement.
Washington, which has consistently condemned Boko Haram attacks, has said it can provide material aid to the Nigerian forces and encourage countries in the region to fight the group. The United States already shares intelligence on Boko Haram with Nigeria.
A statement from the Nigerian presidency said "measures to strengthen and intensify bilateral and international cooperation against terrorism in Nigeria and west Africa'' will top the agenda.
The two leaders, along with U.S. Vice President Joe Biden, will also likely discuss proposed political and economic reforms in Nigeria aimed at ending widespread corruption.
The Nigerian new leader will also have a breakfast-meeting with Biden on Monday and later meet with West African diplomats, World Bank executives, and members of the U.S. Congress.  He is scheduled to hold a town hall meeting with Nigerians on Tuesday.
Among other issues, the American side is expected to pressure Buhari to reverse Nigeria's anti-gay law passed in January 2014. This was clearly stated by the US assistant secretary of state for African affairs, Linda Thomas-Greenfield, although most civil society organizations have urged Buhari not to listen to the US government on issues of gay rights in order to protect laws and values of Nigeria.