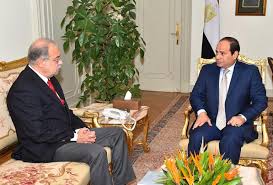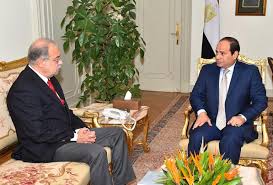 The new Egyptian government, led by Sharif Ismail, who served as petroleum minister in the previous cabinet, which resigned a week ago following a corruption scandal, was sworn in Saturday.
The cabinet includes only 15 new comers as 16 ministers, including those of foreign affairs, interior, justice and defense in the outgoing government maintained their positions in the new lineup.
Ibrahim Mahlab who was leading the outgoing cabinet since Frebruary 2014 has been appointed presidential adviser.
The new government is expected to remain in office until a new parliament is elected this year.
Egypt, the Arab world's most populous country, is due to hold long-delayed parliamentary elections next month. These elections are said to be the final step in a process that would deliver democracy. The elections had initially been scheduled for early 2015 but were cancelled by a court on technical grounds.
Meanwhile, the current cabinet will face a multitude of economic and security challenges.