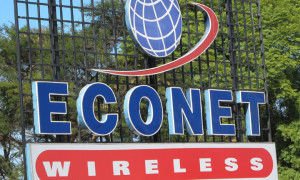 Zimbabwe's largest mobile operator, Econet Wireless Zimbabwe, has disconnected one million unregistered lines over last week, local newspapers reported on Monday.
The move follows recent developments in Nigeria, where MTN, the continent's biggest mobile operator, has been fined a whopping $5,2 billion for failing to disconnect more than 5 million subscribers who did not register their details with the network.
"In line with Statutory Instrument 95/2014 promulgated to ensure that customers of mobile networks are registered on the network, Econet has and continues to ensure that its customers are registered on the network and that their details are correct and up to date," Econet Wireless Zimbabwe Executive Assistant, Lovemore Nyatsine said.
The company which has more than 9-million subscribers in Zimbabwe has warned it customers last July to register their sim cards in line with the revised statutory regulations gazetted by the Postal and Telecommunications Regulatory Authority of Zimbabwe.
"The reason why we were disconnecting unregistered lines was as a result of an increase in the crime rate with errant and unscrupulous dealers taking advantage of the system," Lovemore Nyatsine justified.