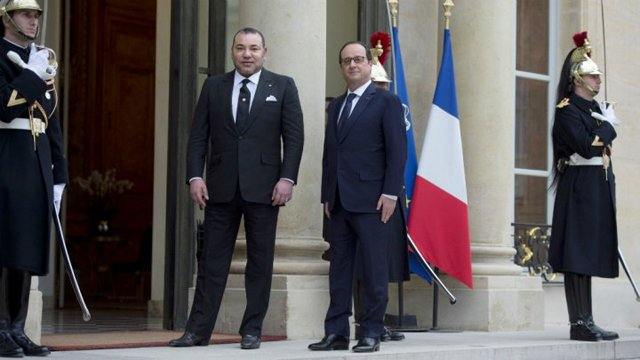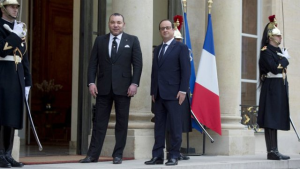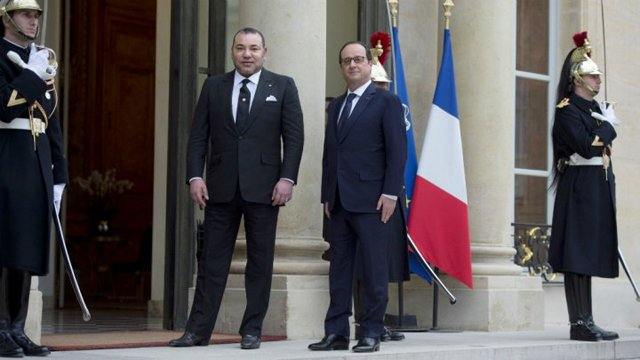 French President François Hollande held talks with Morocco's king Mohammed VI on Friday afternoon at the Elysée.
Talks focused on "the exemplary cooperation existing between the two friendly countries in the anti-terrorism struggle," reported the French TV channel LCI.
The meeting, which took place a week after the Paris terrorist attacks, provided an opportunity for the two heads of state to review the major aspects of the "exemplary" security cooperation between their two countries and to explore prospects to strengthen this cooperation further.
The Moroccan-French summit meeting took place in the wake of the revelations made by French police sources and media that the intelligence provided by Morocco had been crucial in tracking down Abdelhamid Abaaoud, the Belgian jihadist suspected of orchestrating the Paris attacks a week ago.
Cooperation between French and Moroccan intelligence services was reactivated in January following the deadly attack on Charlie Hebdo magazine in Paris and after the Friday attacks which claimed 130 lives and left 350 others injured, Moroccan intelligence services were requested to cooperate in the capture of the fugitive terrorists.
Moroccan intelligence officials thus travelled to Paris and Brussels to help with the investigations to locate the ringleader behind the Paris attacks.
The Moroccan tip-off, along with other information, led police to an apartment block in the Saint Denis district, north of Paris where Abaaoud was killed alongside a female suicide bomber, during a seven hour gun battle on Wednesday.
France's interior minister Bernard Cazeneuve confirmed on Thursday that a non-European country had provided information that enabled to raid the terrorists' hideout. He did not mention Morocco, but according to several media reports he was alluding to the North Africa country.
According to French authorities, the 28-year-old Abdelhamid Abaaoud has been involved in at least 4 of 6 terror plots that have been thwarted by police, in recent months.
Police are also probing links to a thwarted assault on a high-speed train from Amsterdam to Paris in August.
Morocco has long played an important role in fighting terrorism trough information sharing, which has helped foil several terrorist attacks in a number of European countries, such as France and Spain.
https://www.youtube.com/watch?v=dpLOqPXwcyY