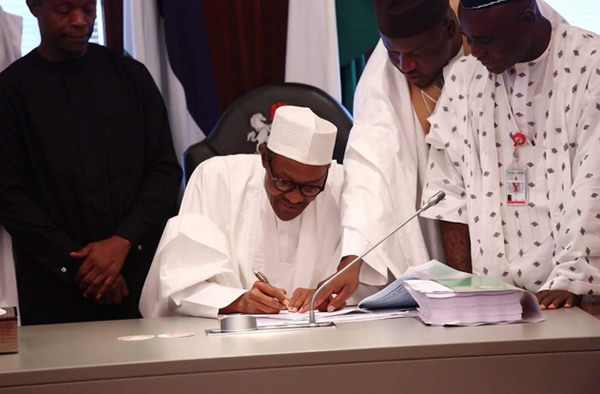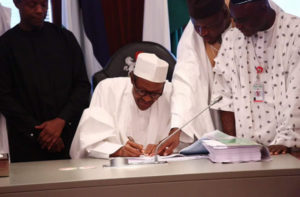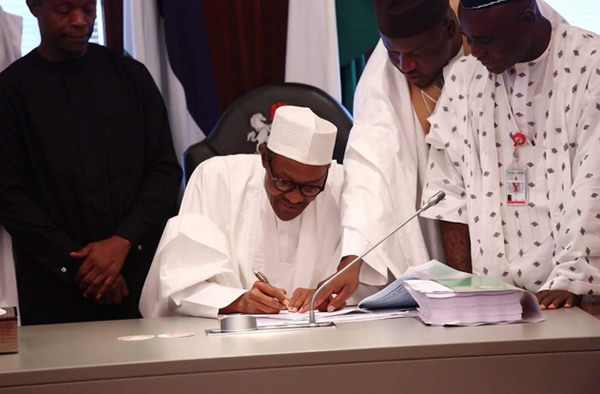 Nigeria's President Muhammadu Buhari on Friday signed the delayed 2016 budget into law, ending weeks of wrangling with lawmakers as Africa's biggest economy contends with its worst crisis in years.
The $30.6 billion budget is an attempt by Africa's top oil exporter to stimulate an economy hammered by the fall in crude oil prices.
The petroleum-dependent economy faces a balance of payments crisis. The central bank is rationing foreign exchange, hurting the non-oil sectors, such as manufacturing and shipping, and driving up food prices.
"We made a deliberate choice to pursue an expansionary fiscal policy despite the huge decline in government revenues from crude oil exports," Buhari said in a speech after he signed the budget into law.
The budget shortfall will be financed by debt which will "be applied towards growth-enhancing capital expenditures."
Nigeria, which relied on crude for about 70 percent of government revenues and 90 of export earnings in 2014, has been hammered by a 60 percent plunge in oil prices since mid-2014 to about $45 a barrel.
Buhari, a 73-year-old former military ruler of Nigeria, said Africa's most populous country is experiencing "probably the toughest economic times" in its history. He promised his administration was "working night and day" to diversify the economy and move away from oil-dependency.