Somalia: pirates hijacked Sri Lankan-flagged ship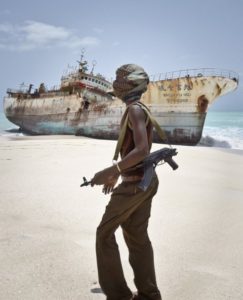 A Sri Lankan-flagged fuel freighter has been hijacked in Somali waters after the vessel sent a distress call.
The ship sent a distress call, turned off its tracking system and altered course for the Somali coast, a piracy expert told Reuters.
According to Reuters, the Dubai-owned Aris 13 is believed to be carrying eight crew members.
A spokesperson for the European Union Naval Force, which runs anti-piracy operations in the area, said it was too early to confirm pirate involvement.
If confirmed, the incident would be the first hijack of a commercial ship by Somali pirates since 2012, he said.
Attacks by Somali pirates have dropped significantly since 2012, following an international naval effort.
Piracy used to be a major problem in the Gulf of Aden as Somali pirates frequently attacked ships, seized their cargoes and kidnapped crew members, later demanding ransom for their release.
Somalia has lacked a functioning central government since 1991, when the dictator Siad Barre fell. The Horn of Africa nation is prey to al-Shabaab, the al-Qaeda-linked Salafist group, and there are few jobs for youths.
Posted by
Geraldine Boechat
on March 14, 2017. Filed under
Zoom
. You can follow any responses to this entry through the
RSS 2.0
. You can skip to the end and leave a response. Pinging is currently not allowed.