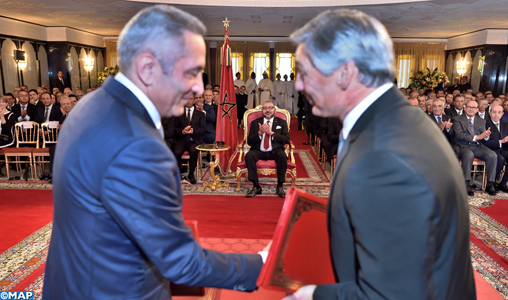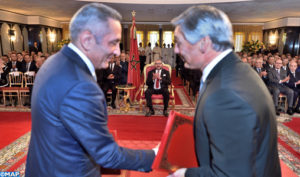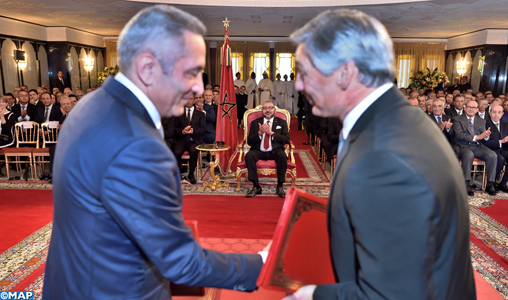 Morocco signed on Tuesday a Memorandum of Understanding with Boeing, the world's largest aerospace company and leading manufacturer of commercial jetliners, to establish an industrial ecosystem in the North African country.
The signing ceremony of the deal was held in the Royal Palace in Tangiers under the chairmanship of King Mohammed VI.
During the signing ceremony, Industry Minister Moulay Hafid Elalamy made a detailed presentation of the Morocco-Boeing joint venture, and surveyed the rapid development scored, over the past few years, by the aerospace sector, one of Morocco's global businesses.
The size of the aeronautics sector increased six fold during the past ten years and currently 121 companies operate in the sector in Morocco, which ranks 15th worldwide in terms of attracting aviation industry investments, said the Moroccan official.
Boeing, which established the MATIS factory in Morocco in 2001, in association with RAM and Safran, has once again opted to establish its ecosystem in the kingdom, he said underlining that this new undertaking is by far the most important.
"Through our joint venture in Casablanca, we have already seen firsthand the exceptional opportunities offered by Morocco to aerospace industry subcontractors, mainly regarding the reduction of costs while producing high quality aerospace products," said President and CEO of Boeing Commercial Airplanes, Raymond L. Conner.
With a high-quality but cheap workforce, Morocco's aerospace sector has developed rapidly over the past decade and attracted several operators among the largest in the world, such as Bombardier, EADS Boeing, Safran, Lisi Aerospace, French Le Piston, Daher, Souriau, Ratier Figeac, Eaton, Alcoa and Aerolia.
The Boeing project that the North African kingdom hopes will create more than 8,000 jobs and an additional $1 billion a year in export revenue, translates the enormous trust that international investors have in Morocco, especially as the deal is signed in a very sensitive international context and a national context marked by the holding of legislative elections in the country.
However, elections in Morocco do not drive away investors because they are a normal process in Moroccan politics that transcends governmental or political changes, and because the Sovereign oversees "personally" the implementation of the country's strategic agenda in accordance with the objectives set.
Therefore investors' trust can be understood easily, in view of the country's political stability, its strong and efficient institutions that reflect the nation's consensus around strategic choices, under the leadership of a King who guarantees the continuity and who plays an active role in the development process of the Kingdom.
Besides, the North African Country, which represents a major economic asset for large international groups, stands out as special in a geostrategic area plagued by successive crises. And the strategy, spearheaded by the sovereign since his accession to the throne, enabled to endow Morocco with advanced infrastructures and regulatory and governance tools.
All these assets enable Morocco to meet effectively the needs of investors and to position itself as a genuine area of economic opportunity.