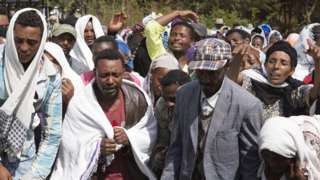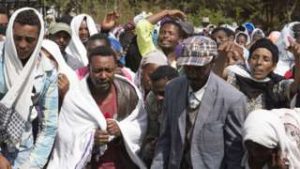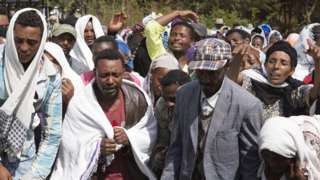 Several people have been reportedly killed and many injured this weekend during a stampede as police dispersed a crowd at an annual cultural festival of the Oromo people, the nation's largest ethnic group.
Among the thousands of festival participants, a number of them marched chanting anti-government slogans with their arms crossed above their heads. Police intervened to disperse them, local media reported.
Ethiopian security forces have killed about 500 Oromo since November during protests against the government, over the eviction of farmers for infrastructure and investment needs, New York-based Human Rights Watch said in June.
The Oromo protesters, who say their ethnicity is marginalized and oppressed, were joined in July by demonstrators from Ethiopia's second-most populous region, Amhara.
The anti-government protests were held to demand fair distribution of wealth to Oromia and Amhara, which are the poorest in the country.
This weekend unrest signals an increasing challenge to the government in Ethiopia, which the U.S. considers a bulwark in the Horn of Africa, a region troubled by failing states. The U.S. is using the country as a base for military drones.
Ethiopia, one of Africa's fastest-growing economies, is part of an internationally funded African force battling al-Qaeda-linked militants in Somalia and also has peacekeeping troops in South Sudan and Sudan.