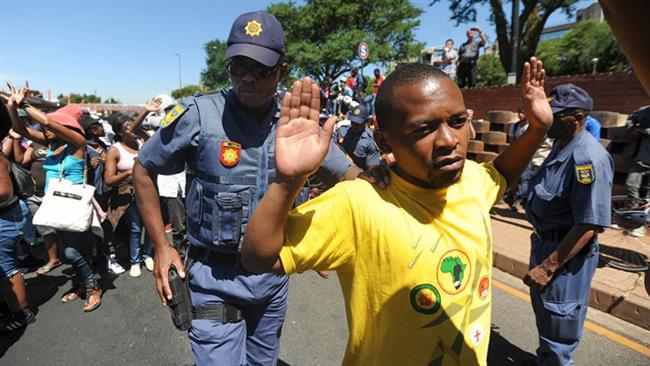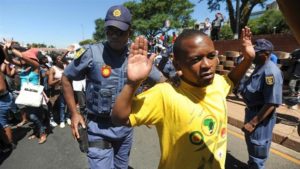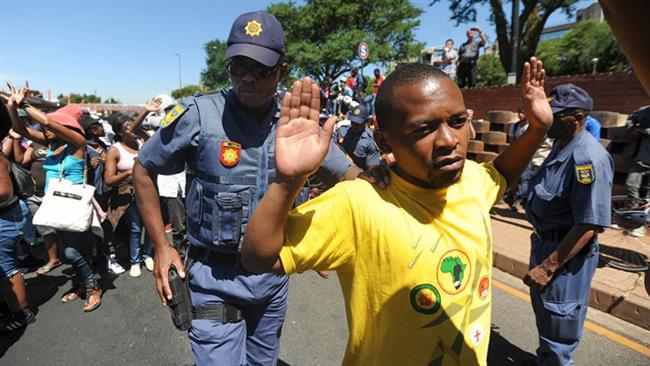 A Catholic priest has been shot and a bus burned in Johannesburg during violent clashes between South African police and students on Monday.
The clashes erupted again after Wits University in Johannesburg reopened its lecture halls that it closed last month because of protests against a planned increase in tuition fees.
The university accused students of throwing rocks "that could have maimed or killed people" and said protesters had responded to negotiation offers from the campus administration with threats.
The Braamfontein Holy Trinity Catholic Church priest, Father Graham Pugin, was injured by suspected rubber bullets shot by riot police when he was trying to protect the church's gates in the middle of the violence.
At least two people were arrested and some minor injuries were reported, the university said.
Acting national police commissioner Lieutenant General Khomotso Phahlane addressed the media later on Monday afternoon saying it is too early to call a state of emergency after the violence.
"The police will continue to do their duties wherever needed; all parties concerned must be responsible and act lawfully," Phahlane was quoted as saying by local media.
Last week, the South African police said agitators on some campuses were trying to goad officers into "another Marikana," a reference to the police shootings of 34 miners during labor unrest in 2012.
President Jacob Zuma ordered a freeze on tuition fees for a year after similar protests last year.