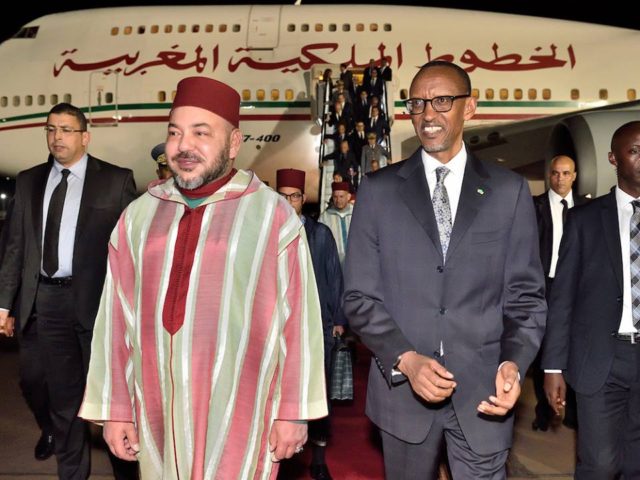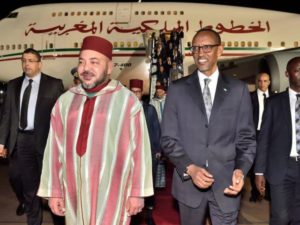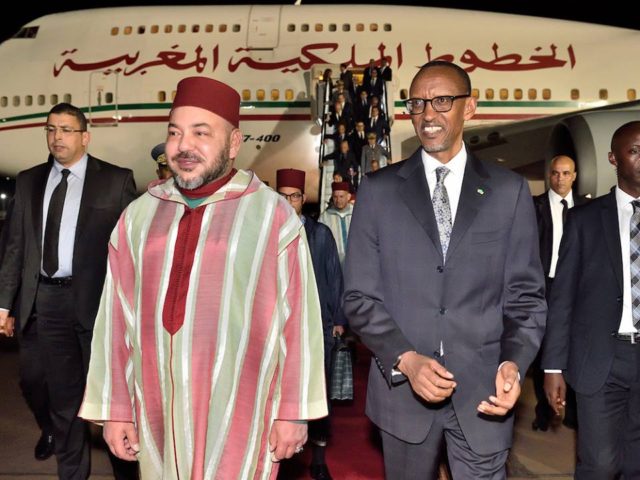 Rwanda and Morocco Tuesday made giant steps to strengthen their ties with the signing of 19 Memoranda of Understanding (MoU) under the chairmanship of King Mohammed VI who is currently on a visit to Kigali and Rwanda's President Paul Kagame.
The cooperation accords touched several domains including Agriculture, Housing, professional training, finance, tourism, new technologies, aviation, and renewable energy.
At a high level, Rabat and Kigali decided to abolish visa requirements for officials of both countries holding diplomatic passports. Morocco's Salaheddine Mezouar and his counterpart Louise Mushikiwabo agreed to establish political consultations between the two countries. They also signed a MoU on cooperation in the realm of aviation.
Also, Morocco envisages sharing its experience in security and counter-terrorism with Kigali authorities. Interior ministers of the two countries established a framework for such collaboration.
Both countries also decided to fight tax evasion. Morocco's minister of economy Mohamed Boussaid and his Rwandan peer, Claver Gatete, signed an agreement to fight double taxation. The Moroccan official also signed an agreement with Francis Gatare, CEO of Rwanda Development Board (RDB) to protect both countries' investments.
In the area of finance, the new close partners rolled out carpet for deep cooperation. Morocco will initiate a microfinance program in Rwanda according to an overall agreement signed by Rwanda's ministry of finance and Morocco's Central Popular Bank Group.
Rwanda's tourism industry will also benefit from Morocco's know-how. An agreement to materialize the exchange and cooperation was also signed between Abderrafie Zouiten, Head of Morocco's tourism authority and CEO of RDB Francis Gatare.
In the area of health, Morocco's company of pharmaceutical cooperation, Cooper Pharma, and Rwanda's Bank of Africa-Rwanda signed a MoU.
Morocco will also build 5,000 low-cost housing in capital Kigali. The decision was confirmed by an agreement between Morocco's Palmeraie Développement Hicham Berrada Sounni, Othman Benjelloun, who sits at the helm of BMCE Bank, active in some 20 African countries, and Rwanda's Development Bank of Rwanda.
Under another major agreement, Morocco's Attijariwafa Bank took over the control of Rwanda's commercial bank, Cogebanque created in 1999.
Attijariwafa Bank's chief executive Mohammed Kettani said under the deal his bank buys 75 percent stake in Cogebanque and a statement from Rwanda's presidential office said the deal was worth around $41 million.
Like other large Moroccan companies, Attijariwafa Bank has been expanding in Africa and has branches in Tunisia, Côte d'Ivoire, Senegal, and Mali, among other countries.
All these agreements are meant to offer a legal framework to bilateral cooperation in line with the Royal vision for Africa that is underpinned by solidarity, co-development and South-South cooperation.
The Moroccan King's visit to Kigali is the first leg of a tour started Tuesday that will also lead the Sovereign to Ethiopia and Tanzania.
This tour is the first of its kind by King Mohammed VI in this part of Africa and takes place as the North African country is about to regain its natural place in Africa's institutional family.