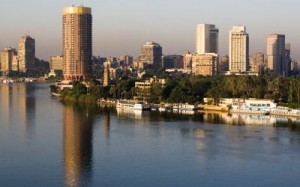 Egypt's search for funding has been given another facelift as the African Development Bank (ADB) decides to help the country get over its troubles. The bank has tentatively agreed to provide Egypt with a biennial plan with an amount of US$2.5 billion. The money will be given to the country over the following two years which coincides with the duration of the country's economic reform plan according to Prime Minister Hesham Qandil.
The amount will come in the form of a loan that which has to be dedicated towards projects aimed at promoting investment and development in Egypt. Speaking at a forum themed under employment, prime minister Qandil said that among the projects outlined to honor the agreement are the  expanding of the Sharm al-Sheikh International Airport, as well as other projects for renewable energy, electricity and sanitary drainage.
Qandil announced the government would sign a contract with the bank by year's end to obtain the initial $500 million, while the remaining $2 billion would be disbursed over the next two years. The bank's board is slated to convene on 20 and 21 of this month to discuss the loan request. African Development bank had previously given initial approval to the loan during Cairo's negotiations with the International Monetary Fund for a US$4.8 billion loan from that institution.
The minister did also highlight that the government is engaged in finalizing the International Monetary fund deal before adding that other international institutions such as World Bank are also interested in helping the country fill its US$27.5 billion budget gap.
With US$100 billion in capital, the African Development Bank is a major African finance entity. Established in 1964, the bank works on consolidating resources for economic and social development for 53 regional member states.