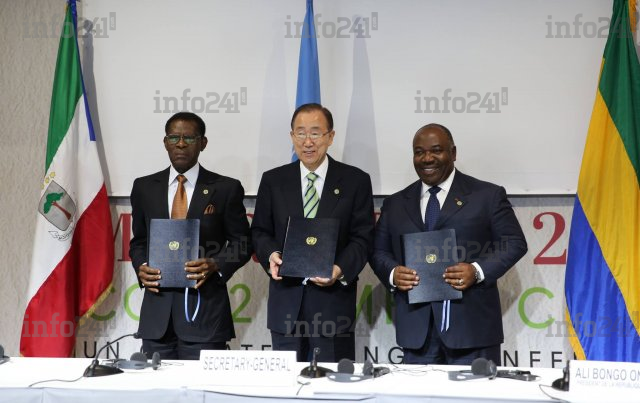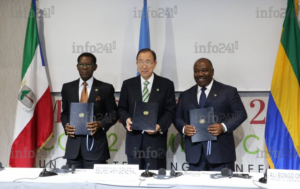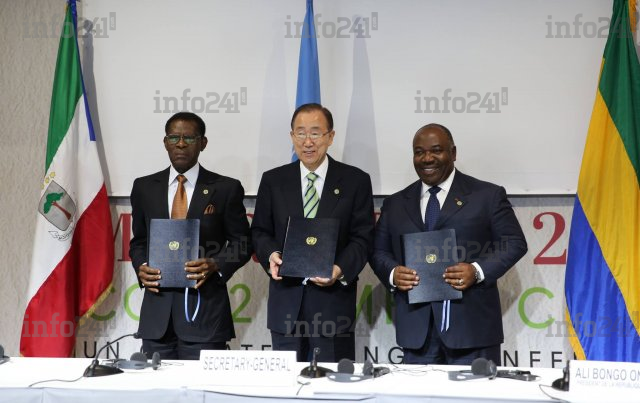 Gabon and Equatorial Guinea officials on the margins of COP22 in Marrakech on Wednesday, agreed on a compromise aimed at submitting to the International Court of Justice the border dispute that has poisoned their relations for nearly 4 decades.
The agreement signed by Gabonese President Ali Bongo and his Equatorial Guinean counterpart Teodoro Obiang Nguema was witnessed by the Secretary – General of the United Nations Ban Ki Moon.
Ban praised President Teodoro Obiang Nguema of Equatorial Guinea – the longest serving ruler in Africa – and President Ali Bongo of Gabon for demonstrating true political leadership.
"I commend President Obiang Nguema Mbasogo [of Equatorial Guinea] and President Bongo Ondimba [of the Gabonese Republic] for demonstrating true political leadership, courage and wisdom in reaching this mutually acceptable agreement, in accordance with the spirit and letter of the United Nations Charter," Ban said in his opening remarks at the signing ceremony.
In his words, "Today's event is a testimony to the determination of your countries to move with a common vision to strengthen and respect the international rule of law, and contribute to lasting peace and good neighbourly relations."
Note that the longstanding dispute between Equatorial Guinea and Gabon regarding the Mbanié, Cocotiers and Congas islands, and common boundaries, dates back to the early 1970's.
The world body (UN) has been mediating efforts to bring sanity between the two countries since 2003.