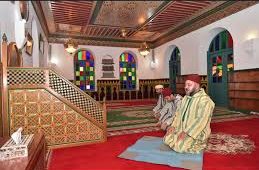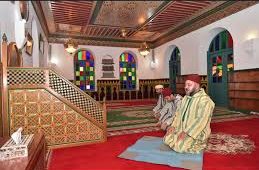 King Mohammed VI, who is visiting Madagascar within the frame of a new African tour, visited Wednesday, "Antsirabe Mosque" which the Sovereign re-named after his grandfather late king Mohammed V.
The Moroccan monarch, Commander of the Faithful, also performed a prayer at the mosque and donated copies of the holy Quran to local Muslim community and the mosques of Madagascar.
On this occasion, Abdelhak Lamrini, historiographer of the Kingdom, offered the King photos showing late king Mohammed V delivering the Friday sermon at the Antsirabe mosque, while others show late king Mohammed V, leading the Friday prayer and accompanied by prince Moulay Hassan who was then crown prince.
For his part, president of the mosque management committee offered the King an album of three pictures of the royal family inside the mosque.
According to Islamic Affairs minister Ahmed Taoufiq, the mosque Mohammed V in Antsirabe was revamped upon the instructions of King Mohammed VI, Amir Al Mouminine, to pay homage and honor his late Grandfather.
In a statement to the press, the minister said that the renovation of this historic building upon royal instructions pays tribute to the memory of a place and to a Sovereign who devoted all his life to the struggle for the liberation of his country from colonialism.
For this noble goal, late King Mohammed V made sacrifices, including the exile to which he had been forced with the royal family by the colonial authorities, added Mr. Taoufiq.
He also said that the name of the city of Antsirabe will remain engraved in the national memory because it welcomed the late sovereign during his exile and is a landmark in the Moroccan history and the national struggle for the recovery of Independence.