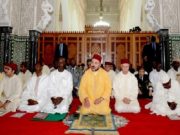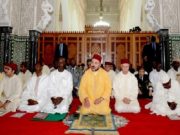 King Mohammed VI, commander of the faithful, who is visiting Madagascar within the frame of a new African tour, performed the Friday prayer at the Antananarivo Mosque.
In his sermon, the Imam stressed the importance of solidarity, charity works, assistance and providing good advice to Muslim brethren to enable them contribute to building a better future for humanity in accordance to Islamic values preaching fairness, justice, self-denial, altruism and peace.
Islam, like other religions, cannot be highjacked by extremists, and Muslims will always remain faithful to their Islamic values of tolerance, co-existence reconciliation, said the Imam, underlining the importance of the visit the Moroccan Sovereign is paying to Madagascar, the land which welcomed his grand-father, late King Mohammed V and the royal family during their exile.
He also recalled the Friday prayer and sermon delivered by late King Mohammed V at Antsirabe mosque, affirming the current royal visit to Madagascar will give a new impetus to cooperation and partnership between the two countries.
At the end of the prayer, the Sovereign donated copies of the holy Quran to the authorities in charge of religious affairs in Madagascar.
Wednesday, the Moroccan Monarch visited "Antsirabe Mosque" which he re-named after his grandfather late king Mohammed V. He also performed a prayer in this renovated mosque and donated copies of the holy Quran to the local Muslim community.
The mosque was revamped upon the instructions of King Mohammed VI to pay tribute to the memory of a religious site and to a Sovereign who devoted all his life to the struggle for the liberation of his country from colonialism.