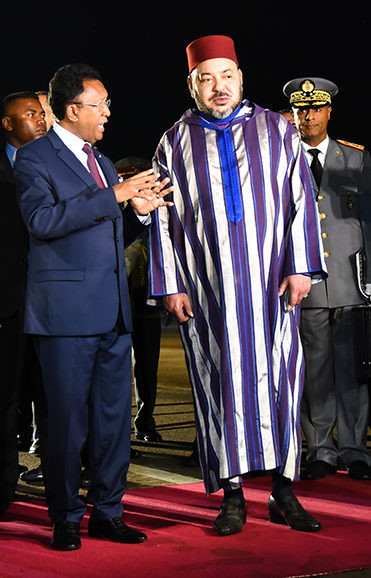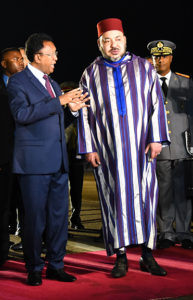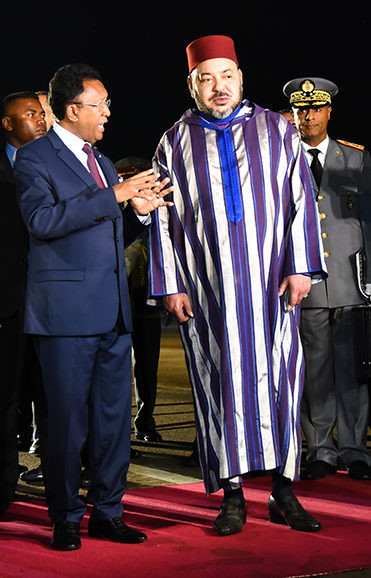 King Mohammed VI has once again pleaded for the promotion of strong inter-African relations and solidarity-based South-South cooperation.
"I would like to establish a strong and solidarity-based South-South cooperation between many African countries", said the Moroccan Sovereign, who is currently on a visit to Madagascar, second leg of his new African tour.
In an interview with Malagasy media, he said this is the model of inter-African cooperation he is seeking to materialize.
"I pay several visits to the countries of the continent to materialize this model of inter-African cooperation. I feel good and comfortable in this continent and I appreciate the kindness and affection shown to me by the people," he pointed out in the interview that was relayed by several Malagasy media outlets on Saturday.
Expressing confidence in the continent's potential and ability to build its own future, he conceded that the challenges in Africa are great. But, he said, "the women, men and children I meet during My visits give me the strength to continue. They make me proud to be African."
He recalled in this vein a speech he had made in Abidjan, in February 2014, wherein he had said that "Africa shall trust Africa" and that "within the framework of cooperation without complexes, we can all together build the future".
The Moroccan Sovereign insisted that his country does not give lessons to other African states but offers to share its know-how and experience with them "without arrogance or feeling of colonization."
"During my visits to Africa or through the projects that I initiate in the continent, it is not a question of giving lessons. Rather, I suggest that we share our experiences," he said, adding that he urges Moroccan companies operating in the continent to use local consultants and workforce to upgrade the transfer of know-how.
"We give and share without arrogance or feeling of colonization."
Touching on means to bolster partnership with Madagascar, King Mohammed VI said the model of cooperation that Morocco wants to implement with Madagascar "is similar to those we have developed in many other African countries."
He said the many cooperation agreements signed during his current visit to Antananarivo reflect the will of the Moroccan State to help the Malagasy government and improve the living conditions of its population. "This is the sense of the projects of construction of social infrastructure and economic development."
Underscoring that Madagascar has undeniable assets to succeed, he said Morocco is ready to support its ministerial departments, public companies and private sector.
In this vein he called the Moroccan private sector to undertake projects in Madagascar, on the basis of cooperation on an equal footing with their Malagasy counterparts.
The Sovereign said that he would not be able to attend the Paris Conference of donor countries to be held early December as he will be visiting Abuja, but promised that a large Moroccan delegation, including representatives of the government and the private sector, will be there and will support the priority infrastructure projects in Madagascar.
He also promised that he will personally follow the implementation of all of these actions.
"I will therefore return to Madagascar," he said.
Recalling his visit to Antsirabe on Wednesday where he launched a vocational training center and the construction works of a mother-child hospital, which will also provide training for medical staff, the Sovereign made it clear that these projects would not benefit the Muslim community only, as it has been rumored, but are intended for the entire population.
The King of Morocco is Amir Al Mouminine, Commander of the Faithful, the faithful of all religions, he said insisting that Morocco does no proselytism and does not seek to impose Islam. "Morocco adopts a moderate and tolerant Islam."