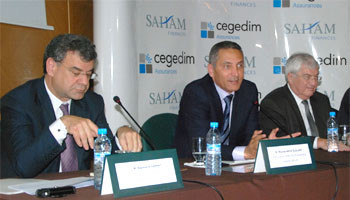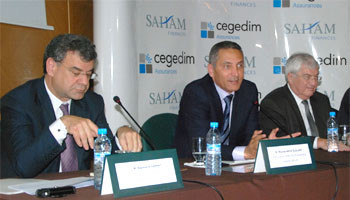 Saham Finances, the finances branch of the Moroccan Saham Group which operates in the sectors of insurance, health plans, roadside assistance, and other sectors, and France's leader company of software and services dedicated to private insurance have signed an agreement on Monday.
The agreement seeks to develop Cegedim Activ health management solutions in African, Maghreban and Middle Eastern countries, Saham group said in a press release.
The first phase of this partnership will be materialized as early as the beginning of the current year with the launch of a first project in Angola, the release said, adding that the agreement lays the foundation for a comprehensive and ambitious partnership under which Cegedim Activ will equip Saham Group's subsidiaries specializing in "Third Party Health Management" and Saham Group's insurance companies which manage their health risk internally, in Africa and in the Middle East.
The two companies also agreed to set up a joint venture in the course of the current month to harness their skills and resources and thus ensure the deployment of IT solutions specially designed for Saham Group's health subsidiaries in more than 50 countries. The joint venture will also provide assistance and support to businesses using these solutions.
"This partnership is critical to our growth strategy and diversification at the international scale," said managing director of Cegedim Activ, Philippe Simon, during the signing ceremony.
"We are proud to support Saham group's ambitions and are very excited to contribute to promoting health systems in Africa and the Middle East," he said.
The agreement, which also provides for technological cooperation, will help promote activities of Saham Finances' TPA (third party administrator) subsidiaries in Africa and the Middle East.
According to the press release, this partnership will make it possible to provide insurers, mutual healthcare companies, entreprises, Social Security Funds etc. with turnkey solutions for the management of health Expenses.
These state of the art solutions are devised with genuine know-how and propose to customers management platforms that are available immediately and that do not require any prior investments, which are usually quite heavy, the release said, adding that the two companies are sharing the same ambitions and seeking the same goals, mainly expand in Africa and in the MENA region and transcend the usual range of their activities.
Saham Group, founded in 1995, operates in several sectors, mainly insurance, roadside assistance, health plans and offshoring. In 2011, it posted a turnover of nearly MAD 6.9 billion (nearly 620 million Euro).
The group's interests in the insurance and assistance sector are owned and managed by Saham Finances, a leading insurance company throughout Africa, excluding South Africa. It has 21 subsidiaries in 16 countries and also provides healthcare management services in a dozen countries in Africa.
Cegedim Activ is leader in France of software and services dedicated to private insurance (supplementary health plans, mandatory health plans, contingency plans, life insurance and retirement). More than 30 million policyholders manage with Cegedim Activ solutions. The company says it works closely with its customers to create innovative offers and help them optimize the profitability of their business.