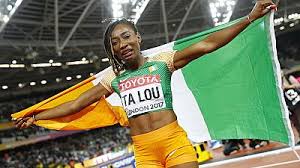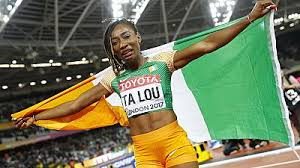 Congratulatory messages flood in Côte d'Ivoire on Monday after the West African nation's athlete secured a consolation silver medal in the women's 100 meters world championship in London on Sunday.
Mari-Josée Ta Lou, 28, lost the gold medal to 26-year-old American athlete Tori Bowie by less than a single hundredth of a second.
A hush went through the stadium immediately following the race, as it was unclear whether Ta Lou, who ran from lane four, or Bowie, who came on strong late in the race from lane seven and stumbled across the finish line with a dramatic lean, had earned the gold.
According to the referees, Tori Bowie dove past Mari-Josée Ta Lou at the finish line, 10.85 to 10.86.
President Alassane Ouattara who watched the race from Abidjan applauded the athlete for her accomplishment – first medal in the discipline for the West African nation.
"Congratulations Marie-Josee Ta Lou for your silver medal at the World Athletics Championships. I'm proud of you!" Ouattara tweeted.
Marie Josée Ta Lou has been an international athlete since 2010 but made her big breakthrough in 2015, making the semi-finals of the 100m and 200m at the IAAF World Championships Beijing before going on to win both sprint titles at the All Africa Games.
The 28-year-old Ivorian has been living and training at the IAAF High Performance Training Centre (HPTC) in Dakar, Senegal, since December 2013.
She has won several medals on the continental level and recently won her personal best of 10.86 seconds at the 2016 Rio Olympics finishing fourth in the 200m.