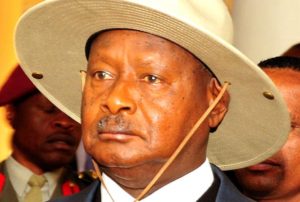 Police in Uganda on Thursday fired teargas to disperse protesters outside the East African nation's parliament. The move comes as legislators of the ruling party vote a draft legislation that could extend long-time leader Yoweri Museveni's rule.
Groups of demonstrators from Makerere University in the capital Kampala were dispersed with teargas on their road to the parliament, Reuters reported.
The legislators of the ruling party want to remove the age limit for presidential candidates to allow Museveni, now 72, to stand for another term. The East African country's existing constitution bars anyone over 75 from standing as a presidential candidate.
In 2005, Musseveni abolished presidential term limits, securing his membership of a tiny club of African leaders who refuse to relinquish power, such as Zimbabwe's Robert Mugabe and Cameroon's Paul Biya.
The ageing leader, currently in New-york attending the 72nd United Nations General Assembly, has not stated clearly whether he intends to seek another term, and officials have said the proposed constitutional change was not specifically to benefit the incumbent.
The parliament was examining several possible changes to the constitution and the age limit was one of them, Mwesigwa Rukutana, Uganda's deputy attorney general said.