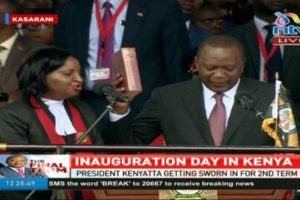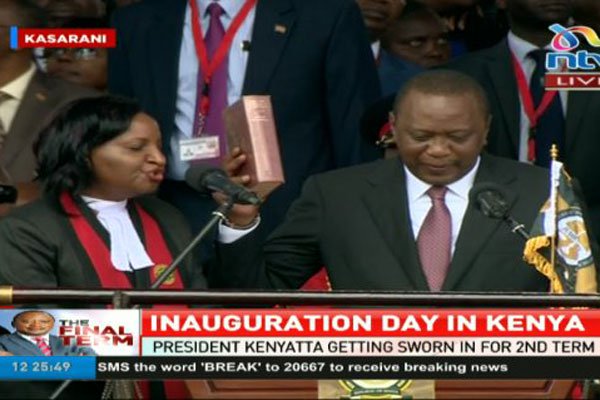 Several African leaders, Israeli Prime Minister Benjamin Netanyahu and thousands gathered in Kenya's largest stadium for the swearing-in of President Uhuru Kenyatta on Tuesday.
President Kenyatta, accompanied by his deputy William Ruto, has been sworn-in for a second term as president at the 60,000-seat Kasarani Stadium in Nairobi.
The inauguration was delayed by two disputed polls and a series of sometimes deadly street protests.
The Tuesday ceremony began amid heavy security in parts of the capital, Nairobi, following a call by the opposition for peaceful demonstrations in memory of dozens killed by police during the post-election riots.
Kenyatta was officially re-elected with 98% of the vote on 26 October but just under 39% of voters turned out.
The original election on August 8 was held over again after being annulled by the Supreme Court on grounds of irregularities.
After taking the oath of office, President Kenyatta gave his inaugural second term speech, focused on an economic transformation plan and reconciliation of Kenyans.
The current political crisis draws on a deep well of social, ethnic and geographic grievances in the country of around 48 million people.
Kenyan police have confirmed at least 14 deaths in the lead up to last week's Supreme Court ruling. Human Rights Watch and Amnesty International said in October, up to 67 people could have been killed nationwide.