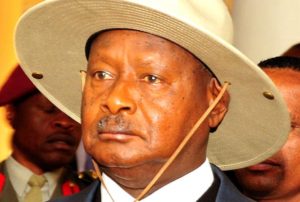 Ugandan President Yoweri Museveni on Wednesday accused the United Nations of preserving terrorism in neighboring Democratic Republic of Congo.
Museveni made the comments in a statement after meeting UN officials investigating an ambush of peacekeepers in eastern Congo.
According to him, UN peacekeepers have been unable to curb deadly attacks by Islamist rebels in neighboring Congo.
Fourteen UN peacekeepers were killed in December in the Democratic Republic of Congo, in what is called the "worst attack" on the UN in recent history.
The death toll is the highest since a 1993 gun battle in Mogadishu, and adds to the hundreds of UN peacekeepers killed in Congo to date.
Set up in 2010, the UN peacekeeping mission in Congo called Monusco is the global body's largest but has struggled to neutralize rebel groups and militia factions in eastern Congo.
One of the groups is the Allied Democratic Forces (ADF), a Ugandan Islamist rebel group that has been operating in the mineral-rich nation for decades.
More than 5,000 people have been killed by state forces in the Kasai region alone in the past two years.
Growing violence in Congo is directly related to the failed elections process and President Kabila's refusal to leave the presidency.