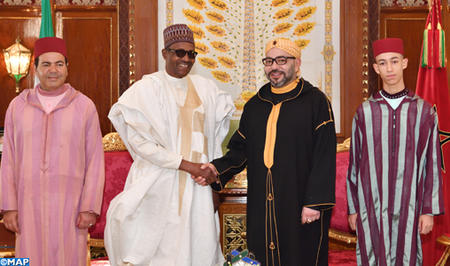 King Mohammed VI of Morocco and President Muhammadu Buhari of Nigeria have both expressed their satisfaction at the progress scored by their cooperation in various areas, such as agriculture, fertilizer production, energy infrastructure and mining and voiced resolve to bank on this cooperation to set up a South- South cooperation model.
This came in the joint communiqué released Monday at the end of the two-day working and friendship visit the Nigerian President paid to Morocco.
The two countries are convinced that diversifying their cooperation and building a win-win alliance will deliver a positive outcome, make them stronger and serve Africa's geostrategic interests.
The two leaders discussed at their talks the gas pipeline project agreed upon in December 2016 during a visit by King Mohammed VI to Abuja, noting with satisfaction the milestones already achieved towards the materialization of the project.
They underscored their commitment to the Gas Pipeline, as a project likely to foster the integration and development of countries in the West African region.
The Regional Gas Pipeline, which will connect Nigeria's gas fields to those of some West African countries up to Morocco and southern Europe, featured prominently at a ceremony co-chaired by the two heads of state.
This project will give Africa new impetus at the economic, political and strategic levels and will elevate Morocco and Nigeria as leaders of south-south cooperation in the continent, it was outlined during the ceremony.
President Buhari's visit also highlighted by the signing of two cooperation agreements in the field of agriculture.
The first was signed between Morocco's phosphates company (OCP) and the Nigerian Sovereign Investment Authority to develop a plant for ammonia and byproducts production in Nigeria.
The second accord deals with professional training in agriculture and technical support within both countries' agriculture ministries.
According to OCP, these new agreements are part of the continent's strategy to invest in fertilizer production to boost agricultural production. To this end, the group (95%-owned by the Moroccan government) has already signed in December 2016 an agreement with Dangote for the construction of a Fertilizer Production Platform, which will be powered by gas from Nigeria and phosphate provided by OCP.
The facility to start operating this year will generate 1 million tons of urea per year.
On regional and international issues of mutual concern, King Mohammed VI and President Buhari confirmed their willingness to hold consultations and to coordinate the two countries' positions in regional and international organizations, including the African Union.
The two Heads of State expressed deep concerns about violent extremism, terrorism and the persistence of security threats in Africa, affirming their resolve to strengthen their cooperation in the fight against radicalization in Africa and beyond.