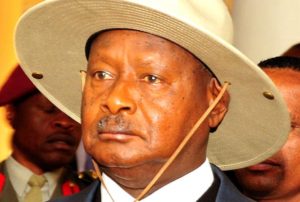 Uganda's constitutional court on Thursday endorsed the parliament's decision to remove the presidential age limit of 75 years that could allow President Yoweri Museveni to extend his three-decade rule.
Yoweri Museveni, a former guerrilla commander, is vying to run eternally the landlocked country, Africa's biggest coffee exporter, which is planning oil production in two years.
The removal of age limit may encourage an incumbent to wish to keep himself in office perpetually but the citizens still retain the power, Elizabeth Musoke, one of three judges who endorsed the amendment said.
In December, when the legislators passed the controversial age limit bill, they also voted to extend the terms of office for the president, local governments and the parliament from five to seven years. However on Thursday, all five judges nullified the extension of the terms of office and also ruled that restoration of term limits was unconstitutional.
Museveni whose rule of the east African country has been marked by corruption scandals, human rights violations has yet to say whether he intends to run in the next vote.
In December, activists, campaign groups, religious leaders and even some members of Museveni's own ruling party have objected to the proposed change to the constitution, saying it is undemocratic.
Museveni won plaudits in the early years of his rule for restoring stability after years of turmoil, and became a key Western ally who sent Ugandan troops to fight Islamist militants in Somalia.