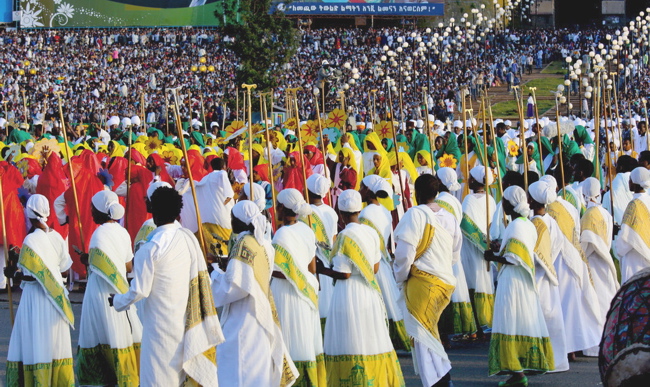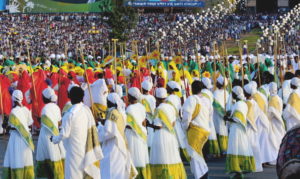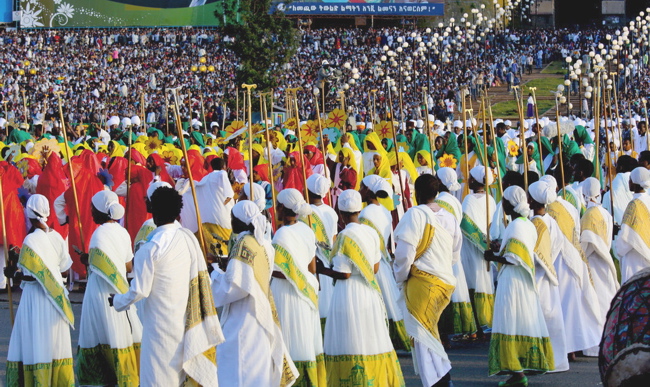 Thousands of Ethiopians and Eritreans had flocked to Meskel Square in Addis Ababa on Wednesday to commemorate the Meskel festival, also known as the Finding of the True Cross on which Jesus was crucified.
Ethiopians from across the country — and visitors from around the world — carried yellow daises, wooden crosses and wax candles as the pile of wood burned down to the pavement.
The colorful and elaborate ceremony was attended by President Mulatu Teshome and deputy mayor of the capital, Takele Uma.
Priests and students dressed in long white religious robes and head gears sang spiritual songs prior to the celebration.
The Meskel festival is about 1,600 years old, but it wasn't always celebrated this grandly. During the 1970s and 80s, when Ethiopia was ruled by a Marxist military junta called the Derg, religion took a backseat to politics and the giant bonfire was banned from Meskel Square. During that time, Ethiopians suspected of supporting the resistance were often killed — up to 500,000 people reportedly died during the Red Terror.
The feast celebrates the finding of the True Cross in the early fourth century by St. Helena, the mother of Emperor Constantine, and corresponds to the Feast of the Holy Cross in the West.
As the only country on earth to celebrate Meskel, Ethiopia is petitioning UNESCO to register its annual celebration in Addis Ababa as a cultural heritage experience.