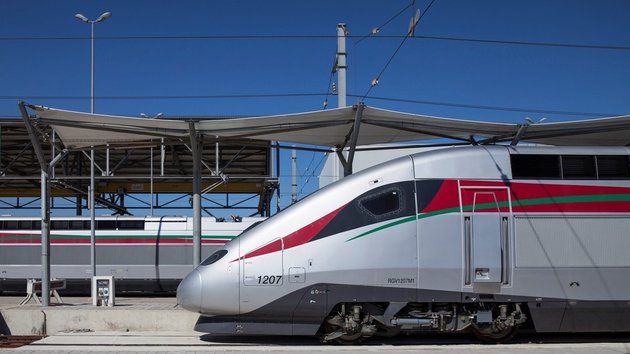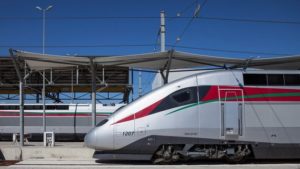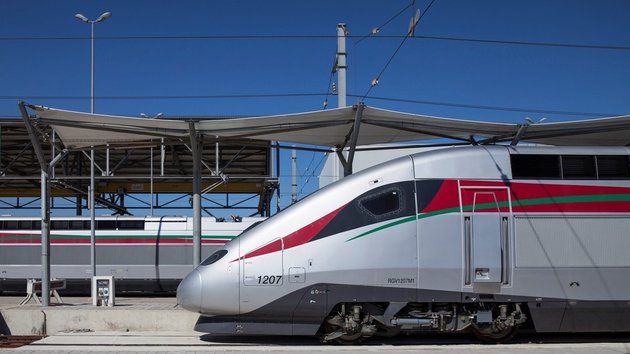 King Mohammed VI of Morocco accompanied by President Emmanuel Macron of France inaugurated Thursday (November 15), the first high-speed train (TGV) in Morocco and Africa, linking the cities of Tangier in the North and Casablanca, the country's economic capital.
The two leaders were offered at the revamped railway station in Tangier the high-speed line first two tickets and then boarded the new train, Baptized "Al Boraq", on an inaugural journey to Rabat.
Many high-ranking officials from both countries, the CEOs of the French companies having contributed to the project and the directors of the French and Moroccan railway operators, SNCF and ONCF were part of the passengers of this inaugural trip.
President Macron is expected to leave Morocco in the afternoon, from Rabat-Salé airport.
The high-speed train can run up to 320km/h reducing the journey time from Tangier to Casablanca to 2h 10min, instead of 4h 45min aboard a regular train.
This landmark rail achievement is the result of the strategic partnership binding Morocco and France and gives the example of a "win-win" North-South cooperation. The related agreement was sealed in 2007 during a visit to Morocco by former French President Nicolas Sarkozy.
The project required an investment of €2.1 billion (23 billion dirhams), of which, 51%, i.e. €1.1 billion, was financed by France in the form of loans to Morocco.
Besides France and Morocco, other friendly countries contributed to financing the project, mainly Saudi Arabia, the UAE, Kuwait and the Arab Development Fund.
The TGV "Al Boraq" has an initial capacity of 523 passengers. The capacity will later be increased to 1,064 passengers after the construction of a double-track line.
When the project reaches its cruising speed, the ONCF expects to operate 15 daily departures from both directions, Tangier and Casablanca, and believes the number of passengers would grow to 5 to 6 million a year after three years of operation.