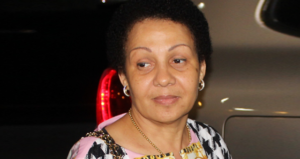 The Speaker of the Gabonese Senate has been appointed by the Gabonese Constitutional Court to serve as Gabon's acting head of state, local media reported.
Lucie Milebou Aubusson, the speaker of the oil-rich nation's parliament upper house, will replace Ali Bongo Ondimba as President, assuming the position of Gabon's head of state, while the latter is recovering from his illness.
Ali Bongo Ondimba was admitted to a hospital in Saudi Arabia late last month. Bongo was in Riyadh to attend an investment conference and was expected to take the floor alongside other leaders but was not seen during the event.
According to spokesperson Ike Ngouni, the 59-year-old President was transferred to King Faisal hospital after he suffered discomfort and "persistent vertigo". He has received all the needed care, the spokesperson said.
Gabon's Apex court said it had been seized by the Prime Minister Emmanuel Issozet Ngondet. The latter, in his request, mentioned the imperative need to advance several files by the presidential approval.
The Gabonese constitution stipulates that in case the president is incapacitated, the speaker of the Senate shall take over the president's duties until elections are held within 60 days.
This happened in 2009 when the current President's father passed away.
As a reminder, Bongo defeated his main challenger, Jean Ping in 2016 by less than 6,000 ballots due to a voter turnout of 99 percent in Bongo's home province. Turnout in Gabon's eight other provinces averaged 60 percent.