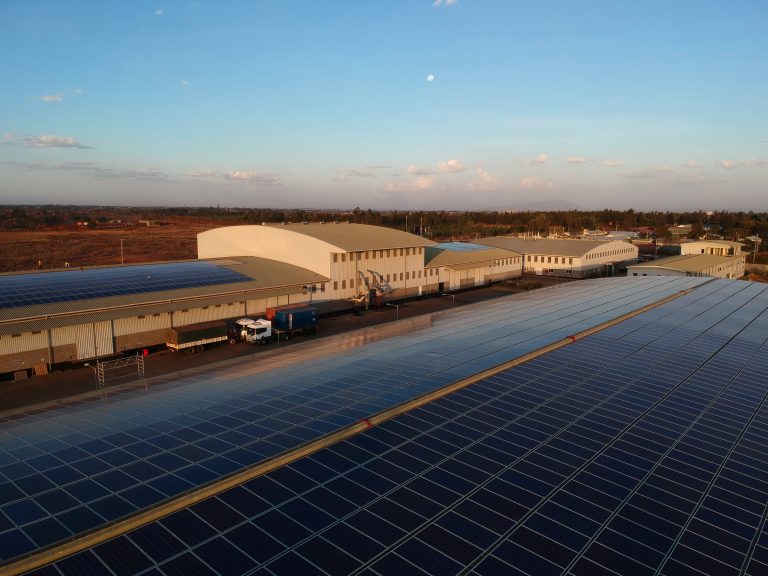 In Kenya, local energy developer Equator Energy, has commissioned a 1 MW plant near the capital city Nairobi.
The plant is located at Tatu City, a city under construction 23 km north of Nairobi, the Kenyan capital
The plant includes 2,880 solar modules fixed on 5,700 m2, on the roof of the headquarters of Dormans Coffee, a coffee transformer. The solar panels are connected to each other by at least 15 kilometres of wire.
The entire installation produces 1 MW and the solar power plant will reduce CO2 emissions by 1,000 tonnes per year, according to Equator Energy's engineers. It is expected to serve 8,500 people per year, producing 1.4 million kilowatt-hours per year.
The plan is to install solar panels on all rooftops at the industrial park, producing up to 30 MW, according to Nick Langford, head of utilities for Rendeavour, the developer of Tatu City.
In his word, the power will be distributed for use by homes and businesses within the city. "Residents will enjoy sustained power supply at very minimal costs," he said.
Equator Energy CEO Sebastian Noethlichs said the installation is one of Kenya's largest solar power plants.
Note that Tatu City covers an area of more than 20 Km2. The urban development projects of the city include the construction of houses, schools, offices, a shopping district, health centres, green spaces, a sports and entertainment complex and, above all, an industrial park.
Backed by CDC Group and International Finance Corporation, Africa Logistics Properties at Tatu Industrial Park is the largest Grade A warehousing in Kenya.