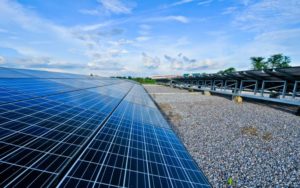 Labacorp, an American company specializing in renewable energy production, has proposed to build a 900 MW solar project in Zimbabwe.
The company is currently negotiating the contract with the authorities, Kudakwashe Taruberekera, founder and CEO of Craft Properties, the local partner of the American firm said.
A team from Labacorp Power Company is expected by June 2019 in Harare to explain the project to the government, Taruberekera said.
The US company anticipates to begin work on the project as soon as it secures clearance from the government.
If Labacorp Power obtains government approval to build the 900 MW plant, it would significantly contribute to diversifying Zimbabwe's energy mix, which is still dominated by thermal energy.
Among the key objectives of the Government of Zimbabwe is to develop a middle-income economy and achieve a 33% reduction of greenhouse gas emissions by 2030. A key strategy to deliver these ambitious developments is the draft renewable energy policy, which targets 1,000 MW by 2025.
With an installed capacity of 2,342 MW comprising 55% thermal and 45% hydro energy, the country is unable to utilize its capacity due to limited access to water and fuel as well as ageing equipment.