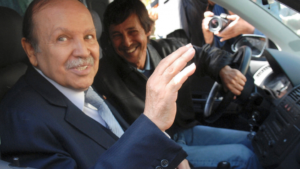 A military court has placed the younger and advisor of ex-leader Abdelaziz Bouteflika as well as two generals into custody as the state prosecution levels "plotting against the state" charges against them.
State-run television showed Sunday Saïd Bouteflika, Mohamed Mediene (aka Toufik) and Bachir Tartag proceeding to an appearance in a military court after a military court in Algiers placed them in custody the previous day on two charges namely plotting against the state and harming the army's authority.
The court did not elaborate on the charges.
Saïd had been for more than a decade a top advisor of his elder brother who ran the country for two years before he was forced to step down early last month.
He was known as the kingmaker in Bouteflika's regime after the 82-year old former President became weak following a stroke that impaired his ability to rule the country.
Toufik and Tartag led the country's top intelligence in the past. Toufik received detention threats from army Chief of state Ahmed Gaed Salah who accused him of plotting against the army.
Salah has promised to thousands of Algerians who have been demonstrating since mid-February for an overhaul of the regime and to get rid of politicians, businessmen, military officials who formed the inner circle of Bouteflika.
Several members of this inner circle, including top business people and top politicians have been already hauled into prison.