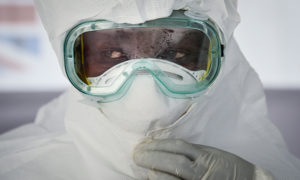 The Tanzanian Minister of Health has issued an "alert" on Sunday following the outbreak of Ebola cases this week in neighboring Uganda.
The number of people in Uganda who have been exposed to the Ebola virus expanded significantly, from eight to at least 27.
The disclosures, in a Ministry of Health update on its website, suggested an accelerating threat to Uganda from the Ebola virus, which has been ravaging eastern Congo for the past year and was reported to have spread to Uganda last week.
"I would like to alert the public to the existence of a threat of an Ebola epidemic in our country following the outbreak of this disease in Uganda," said Tanzania Health Minister Ummy Mwalimu.
She said the alert was issued because of "the important interactions between the populations of the two countries via official borders or other unofficial channels".
The regions of Kagera, Mwanza and Kigoma (northwest) are the most threatened, "but since this disease is very easily and quickly transmitted from one person to another, almost the entire country is at risk," the minister said.
The World Health Organization (WHO) said on Friday that the Ebola epidemic that has been raging since August 2018 in the eastern Democratic Republic of Congo and has spread to Uganda is not a global health "emergency".
The Ebola virus can lead to uncontrolled internal bleeding and death. It is transmitted through physical contact and is one of the most contagious diseases. The symptoms can take days to manifest themselves, elevating the risk of infection.