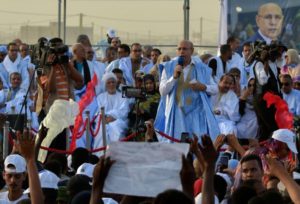 In Mauritania, ruling party backed candidate Mohamed Ould Ghazouani has won the presidential election on Sunday.
The electoral commission of Mauritania has declared Ghazouani winner late on Sunday with 52% of the vote. His nearest rival, anti-slavery campaigner Biram Dah Abeid, came second with 18.58%, while third place.
According to Sidi Mohamed Ould Boubacar, a candidate backed by Mauritania's biggest Islamist party, "multiple irregularities… eliminated any credibility" of the Saturday polls in the West African desert nation.
"We reject the results of the election and we consider that they in no way express the will of the Mauritanian people," he said, vowing that the opposition would use "every legal means" to challenge them.
Earlier on Sunday, Ghazouani declared himself the winner of the Saturday polls. Mauritania's government also declared victory for the former general and congratulated him.
Ghazouani — who campaigned on the themes of continuity, solidarity and security — served as Abdel Aziz's chief of staff from 2008 to last year.
The most critical issue on the campaign trail has been the standard of living, which every candidate has promised to improve.
The outgoing president is largely credited with stabilizing the country after seizing power in a 2008 coup. Abdel Aziz was later elected as president in 2009 and 2014 in a vote boycotted by the main opposition parties.
Slavery also remains an issue. Mauritania became the final country in the world to formally abolish slavery in 1981, but it continues to this day.