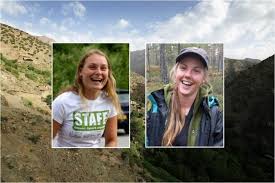 A court in Sale, near Rabat, Thursday sentenced to death three main suspects who pleaded guilty for the killing in December of two Scandinavian holidaymakers in the High Atlas Mountains.
Two of 24 defendants confessed they killed Louisa Vesterager Jespersen, 24, from Denmark, and Maren Ueland, 28, from Norway, while a third said he stood by filming the horror.
The assassins reportedly said in court they decided to commit the abject terrorist act in Morocco after they failed to join the Islamic state group (ISIS) abroad.
The terror group did not claim responsibility for the killing.
The court gave 30-years in prison to a fourth member of the cell, charged for accompanying the killers, although he was not present during the cold killing of two travelers.
Four other people among whom the only foreigner on trial, Kevin Zoller Guervos, a Spanish-Swiss convert to Islam, were condemned to 20 years in prison for joining a terrorist group.
Guervos, reports say, was found guilty for teaching the main suspects how to use an encrypted messaging service and to use weapons.
The court additionally pressed 15 years in prison against four other convicts and the rest of defendants received sentences ranging from 10 to six and 5 years.
Jespersen and Ueland were roommates at Norway's Bo University where they were studying to become tour guides. They were on a camping trip in the North African country on their own with no guides.
The prosecution noted that they were tracked down for four days before being murdered.