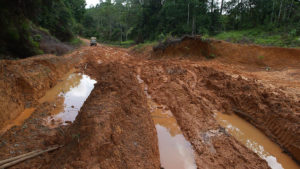 Ghana Finance Minister announced that the government has resumed work on cocoa roads in the west African nation.
In the Mid-year Budget Review in Parliament, Ken Ofori-Atta, the Finance Minister has announced that the government is seeking to ensure rapid expansion of infrastructure in an integrated manner to transform the economic and social lives of Ghanaian.
He said 450 feeder roads and 20 trunk roads covering 4,500 km and 500 km respectively have been programmed by COCOBOD and the Ministry of Roads and Highways for construction, upgrading, rehabilitation and routine maintenance activities.
Ghana's cocoa production stands at 794,841 tonnes so far this season—or about 88% of its 900,000-tonne forecast
Ofori-Atta also said Ghana's government had slightly revised up its GDP growth forecast to 7.1% this year from 7.6% previously, but still up on the 6.7% growth posted last year.
The fiscal deficit was also slightly revised up to 4.5% against a previous forecast of 4.3%, he said.
Earlier this year, Ghana Cocoa Board (Cocobod) said it planned to issue up to US$2 billion dollars in bonds to pay off some legacy debts on its books.
According to Mr Ray Ankrah, Deputy Chief Executive Finance, Cocobod was looking at a tenor of between 10 and 20 years for the bonds.