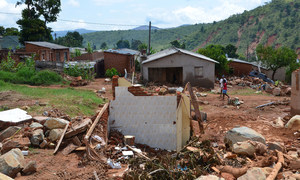 Zimbabwe should do more to embrace and safeguard democracy, the UN-appointed independent expert on the rights to freedom of peaceful assembly and association said on Friday, at the end of his first visit there.
In a statement, Clément Nyaletsossi Voule expressed his support for the Government's stated commitment to democratization.
But two years since Emmerson Mnangagwa became President, after the removal of long-term leader Robert Mugabe, Mr. Voule urged the authorities to go further in promoting people's rights and engage in dialogue with all those affected by austerity measures.
Mr. Voule's comments come as UN aid agencies continue to warn of widespread food insecurity in the country, which has been left reeling by a slow-burning economic collapse made worse by drought and the impact of Cyclone Idai in March.
According to a recent update by UN humanitarian coordination agency OCHA, some 5.5 million people in rural areas are now food insecure.
Of this number, more than 3.5 million – around 40 per cent of people in the countryside – are expected to be in need of urgent humanitarian assistance by October.
In addition, some 2.2 million people in urban areas are food insecure, the OCHA update noted.
In his appeal, the Special Rapporteur cited concern over the "excessive" use of force by police and military during protests.
Putting troops in the streets was becoming "commonplace", he maintained, while also insisting that it was vital for police or military personnel who committed human rights violations to be held accountable.
"To foster impunity is to foster distrust among the population, alienating them from the Government, and quashing their hopes of meaningful change in the future," he said, before encouraging the authorities to engage in "genuine dialogue with the political class and the population, "including protest movements".
It was the "only way forward to resolve such a crisis", he insisted, while highlighting the Government's "unenviable challenge" of having to resolve a "profound and complex economic, political and social crisis".