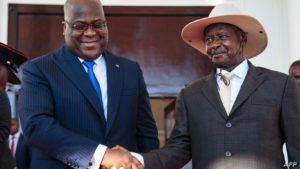 Democratic Republic of Congo's President Felix Tshisekedi and his Ugandan counterpart President Yoweri Museveni have signed an agreement to increase trade and investment between the two Great Lakes Region countries.
President Tshisekedi, who is visiting Uganda for the first time to attend the first ever Uganda-Congo Trade Forum, and his host jointly addressed a press conference in Kampala over the weekend where they revealed plans to construct roads linking the two countries to enable the transportation of goods across the border.
According to President Museveni one road will go from Goli to Mahagi, Bunia. Then two other roads will connect Mpondwe to Beni and Bunagana to Rutshuru to Goma.
"We are going to improve road infrastructure including the Mpondwe-Beni, Goli-Bunia, Bunagana-Rutshuru-Goma roads and the bridge across river Semuliki to Bunya. These will improve trade, social issues and will guarantee security," President Yoweri Museveni said in a tweet.
The total distance of the three key road networks will be 1,182 kilometers.
Ministers from the two countries also signed memorandums of understanding on security, infrastructure, transport and tourism.
Trade this year between Uganda and the DRC, through May 18, is over $532 million, with Congo only exporting $30 million in goods to Uganda.
Uganda's state minister for investment, says the launch of the business forum and signing of the agreements will open a DRC market of 80 million for Ugandan businesses just as they will open the Ugandan market of 40 million for the DRC.