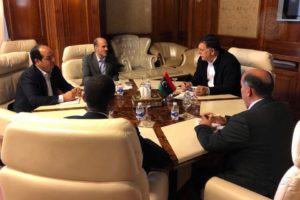 UN-backed Government of National Accord (GNA) Monday laid into Egypt after president Fattah al-Sisi accused the internationally recognized Libyan administration of being held hostage by militia.
In speaking at World Youths Forum in Sharm el Sheikh on Sunday, the Egyptian leader indicated that the GNA is "unable to have a free and real will because they have been held hostage."
Tripoli-based GNA is propped up by powerful militia groups.
Libya has been dogged by rivalries tipping on opposite sides the GNA against Egypt, UAE and Russia-backed east-based administration supported by retired General Khalifa Haftar.
Haftar has since early April launched an offensive to seize Tripoli from the GNA over the same accusation leveled against the UN-backed government by the Egyptian President.
The offensive has stalled because of the tough resistance by pro-GNA forces. Al-Sisi also indicated that Egypt has rights to intervene because the situation in Libya poses threat to Egypt's security.
In a hit-back, the GNA issued a statement lambasting Egypt's position and calling on President Fattah al-Sisi to support stability in Libya instead of providing backing to Haftar, the Libya Observer reports.
"Egypt should play its role in supporting stability in Libya instead of supporting illegitimate armed groups led by a war criminal who launched an offensive against Tripoli," the statement reads.
Haftar has received support from Egypt, UAE and Russia for the offensive, while Turkey and Qatar have openly pledged economic and military support for the GNA.