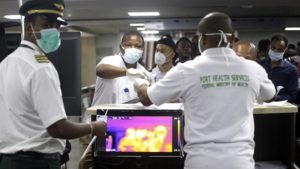 The authorities in Gabon have 'temporarily' closed a part of the country's borders with neighboring Cameroon.
Gabon restricted movement especially at its northern borders with Cameroon following the announcement of first coronavirus cases in the country.
Cameroon has two confirmed cases of the disease, so far the only Central African country affected.
According to the Gabonese Ministry of the Interior, the public health measure was "temporary".
In west Africa, the government of Benin has earmarked nearly 7 billion FCFA ($12 million) as part of measures of preparedness to combat the virus. The country has no case but took measures following a case in neighboring Togo.
A government statement said a task force has been put in place to ensure the proper and rational management of the available resources and the expenses that will be incurred.
On Monday, neigboring Burkina Faso has confirmed two coronavirus cases. The patients are Burkinabe and had returned from France in February.
The man is 73-years-old and the woman is 57. They tested positive for the virus on Monday and have been placed in isolation, authorities say.
A third person who was reportedly in close contact with the couple has been placed under observation.
West Africa is the second most impacted region with single-digit cases reported in Nigeria, Senegal and Togo. Cameroon is the only country in Central Africa with two cases whiles in southern Africa only South Africa has seven cases.
North Africa is the most impacted region with only Libya having escaped infection so far. Egypt has 55 cases whiles Algeria has 20, and Tunisia recorded 5 cases. In Morocco, 3 patients tested positive, one of whom died this Tuesday.