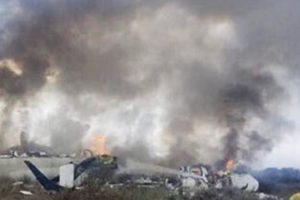 A Kenyan cargo plane crashed on April 4 in southern Somalia where it was on a humanitarian mission, killing all six people on board.
The plane was carrying medical supplies in the fight against the coronavirus pandemic. "The plane was about to land on the runway at Bardale when it crashed and caught fire. The six people on board died in the crash," Abdulahi Isack, a local Somali police official, told AFP.
According to Hassan Hussein Mohamed, Minister of Transport of Bardale State in south-west Somalia, among those killed in the crash were two Somali and two Kenyan nationals. There were six crew members on board.
The plane, which belonged to African Airways, a Kenyan airline, was carrying humanitarian supplies. These included medicines and mosquito nets to be used in the fight against Covid-19.
Mr. Hussein Mohamed assured that an investigation has been launched to determine the origin of the crash.