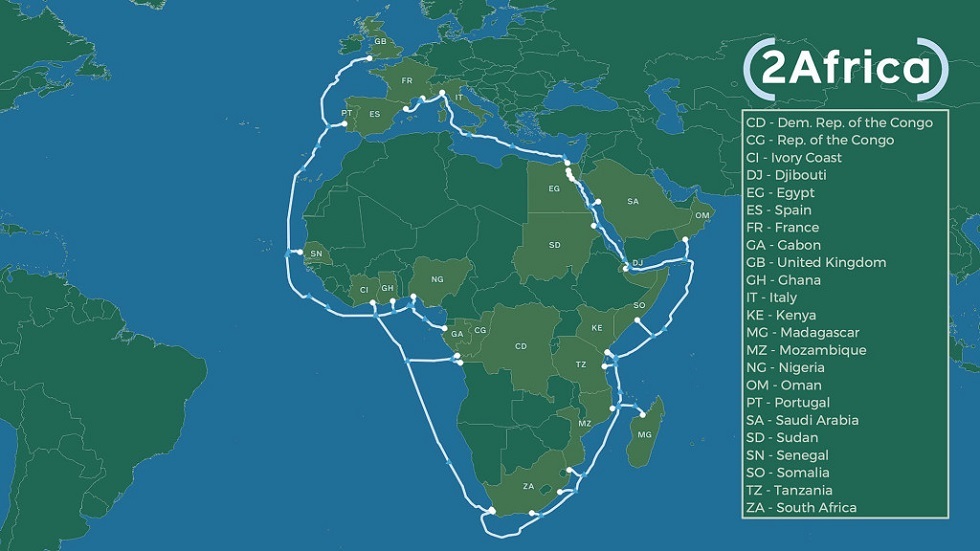 A cable of 37,000 km around the African continent. It is a gigantic project announced this week by a consortium of 8 companies: the construction of a submarine cable called "2Africa" which will leave the United Kingdom, direction Portugal and then go around Africa. This cable, which should be operational in 2023 or 2024, should improve the continent's access to the Internet.
Provide access "greater than the total combined capacity of all submarine cables currently serving Africa". This is the objective of the consortium of multinational telecom companies that will build the 37,000 km submarine cable around Africa to improve internet access on the continent and in the Middle East.
The cable, one of the longest in the world, will link Western Europe to the Middle East and 16 African countries, crossing the Mediterranean, the Red Sea, the Gulf of Aden, the African coast from the Indian Ocean to the Cape of Good Hope, and up the Atlantic Ocean to Great Britain.
The 2Africa cable will incorporate the new SDM1 technology, designed by ASN, deploying a maximum of 16 pairs of fibers, where previous technologies supported only eight.
The cable will also incorporate "optical switching" technology to enable flexible bandwidth management, the consortium's press release said. The cable will be more buried than older systems and the route will avoid areas affected by submarine disturbances to "provide the highest possible level of availability".
The consortium members include French operator Orange, China Mobile International, Facebook, South Africa's MTN GlobalConnect, STC (Saudi Telecom Company), Telecom Egypt, Britain's Vodafone and WIOCC (West Indian Ocean Cable Company). Edst Alcatel Submarine Networks (ASN) was responsible for the construction of this gigantic project.